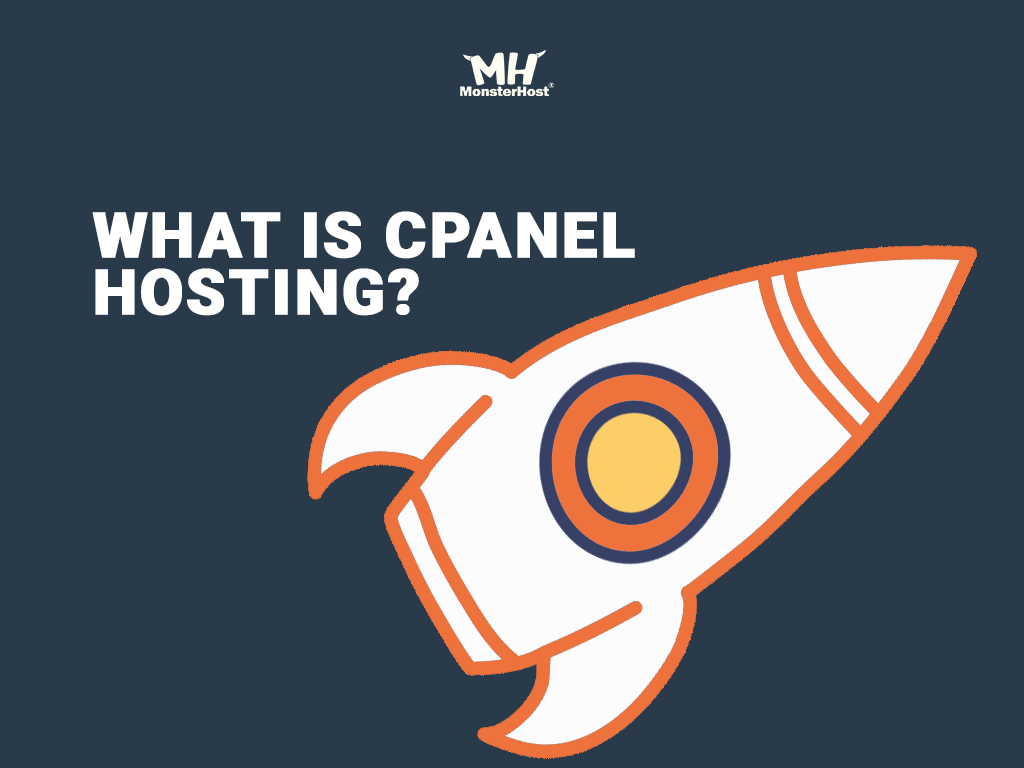 Running your own website is a little scary when you're doing it for the first time. Websites look simple, but there are all sorts of tiny things that work together to keep a website working the way it should. So, if you don't know what you're doing, of course it can be overwhelming. But it doesn't have to be.
cPanel gives you everything you need to manage your website without spending mountains of money hiring IT staff or spending tons of time reading complicated jargon. Once you understand cPanel, you'll see why it's the only choice for website owners who want to have control over managing their website but don't want to break out in stress-related hives over it.
cPanel is one of the most powerful web hosting tools.
What is web hosting, and why do I need it?
Web hosting companies make it possible for you to own a website without paying the high costs of running your own server.
We'll explain:
Websites are stored on servers, so if you don't have access to a server, you can't run a website. Without web hosting companies, only massive companies and very wealthy people would be able to afford websites, because they'd be the only ones with the capital to buy servers and pay the housing and maintenance costs associated with operating them. Web hosting companies own servers and rent space on those servers so ordinary people can afford to have websites.
What is the cPanel hosting tool?
cPanel is a user-friendly, graphic-based, customizable control panel that makes it easy for you to do everything you need to do to run your website.
Because it's such a powerful hosting tool, all the best web hosting companies offer cPanel.
Why is cPanel such a powerful hosting tool?
To properly manage your website, you'll need to be able to add and remove apps, add domains and subdomains, and upload files to your website.
cPanel lets you control email addresses, domain names, databases, files, apps and everything else you need to be able to manage when you're running your website.
It's a powerful hosting tool because it levels the playing field. Even first-time website owners can competently manage their website using it.
Here are some of the great features of cPanel:
Great database support: cPanel works with MySQL and PostgreSQL, which are the most frequently used query languages to manage information in databases.
Domain name management: If you want your website to be displayed with a different domain name, you can use the domain alias feature in cPanel. The interface also makes it easy to manage new domains that you add under your hosting plan.
Softaculous app installer: This lets you add apps to your website with just the click of a button. These aren't useless throwaway apps, either. Some of the apps you can install are social networking buttons, galleries, Content Management Systems (CMS), and shopping carts for your eCommerce website.
Web disk: The web disk simplifies the process of uploading, downloading, organizing and managing all your files.
Backup wizard: This makes it easy to back up your website in just a few clicks.
Email account management: With this tool, you can manage the custom email domains that match your website domain.
AWStats: This tool lets you view the number of visitors on your website. With this information, you can see how well your website is performing and if there's anything you can do to attract more visitors. This also gives you a good idea of when it's time to upgrade your web hosting plan.
Cloudflare: When you choose cPanel hosting, you get access to Cloudflare, which is a Content Delivery Network (CDN) that speeds up your website and makes it more secure.
The best cPanel hosting provider
To choose a powerful hosting provider, look out for these features:
High uptime: Uptime is the amount of time, expressed as a percentage, that a website is likely to be up and running if you choose a particular hosting provider. As a rule, never choose a hosting provider that offers anything less than 97% uptime. We offer 9% uptime.
Various hosting packages: Different websites have different web hosting needs. Some websites need dedicated hosting, because they handle lots of sensitive information or because they get hundreds of thousands of visitors every day. Other websites don't need so much server space and would run beautifully on a shared hosting plan. And then there are the websites need something in between: a VPS hosting plan. To choose the right hosting provider, look for a hosting company that offers lots of hosting packages for you to choose from.
Customer support: We offer 24/7 customer support, even on bank holidays.
Lots of hosting features: Look for a web hosting company that also offers extra features for your website, like SSL certificates, an SEO tool, an email marketing tool, and cPanel hosting.
Secure servers: We monitor our servers 24/7 to make sure all our equipment is working perfectly. (That's why we're able to guarantee such high uptime.)
Good web hosts always have lots of great extras to take your website to the next level.
How do I get free cPanel?
Okay, usually, we'd warn you to stay away from anybody offering free cPanel. You need to make sure you're getting the real thing, because cPanel is critical to a smooth web managing experience. If you choose free cPanel, there are just too many things that might go wrong.
This doesn't mean that you have to choose between free cPanel and obscenely expensive cPanel, though. Choose a hosting provider that gives you cPanel at a reasonable price.
We're determined to offer competitive prices for our cPanel, so we're constantly checking the market to make sure we give you a good deal and great value for your money.
That said, you can get free cPanel if you choose one of our shared hosting plans.
If you use our easy-to-use sitebuilder, you also get free cPanel along with free email accounts!
Wrapping up
cPanel is a powerful hosting tool that makes it a breeze to create your website, keep it running, and tweak it until it looks exactly the way it does in your head! And because it's so easy to use, you don't need to spend hours learning to use it, either.
With all that going for it, it's no wonder that new website owners can't get enough of cPanel hosting!