Our MONSTER webhosting features
Monsterhost® rules the hosting industry
If you are in search for the best website hosting plan, you have come to the right place! You just discovered the most efficient and most powerful hosting provider on the planet - so go ahead give us a try.
Monsterhost® is renowned for providing the BEST website hosting packages around that caters to an abundance of website needs. With quality service and products that really work and surpasses out customers' expectations, we have managed to build an incredible group of loyal customer who trust our products and services. We allocate resources to each subscriber's account so, there is no need to shove nor fuss over server space.
Secure website hosting features
Plus, we design packages that comprise of the baseic needs to host and launch a website online fast. Our heavy-duty Tier IV servers are durable and able to manage individual site hosting. SME website hosting and even massive enterprise hosting. You are in great hands; we can hardly wait to host you!
For secure and fast website hosting look no further than MonsterHost®. When you host with us, our guarantee is 100% secure servers that are maintained by our expert team and powerful security firewalls.
Tier IV servers that provide optimal website load speeds
24/7 around the clock server maintenance at our data centers
Stay online 365 days a year with reliable hosting with 99% uptime or more.
World class hosting support 27/07/365. We keep an on things so you rest easy.
ADDONS for the best websites
Remarkable Web Hosting Packages
Web Hosting
Perfect for new and small websites
Fast Setup
Tier IV Servers
1-Click App Installation
Free Account Transfer
Reseller Hosting
Buy cheap for BIG Profits
Unlimited Domain Names
Unlimited Sub-Domains
Unlimited c-Panels
WHMCS Billing Software
VPS Hosting
For Dedicated Flexibility, Functionality & Control
Full Scalability
Total Security
Fast & Powerful Servers
Acronis Backup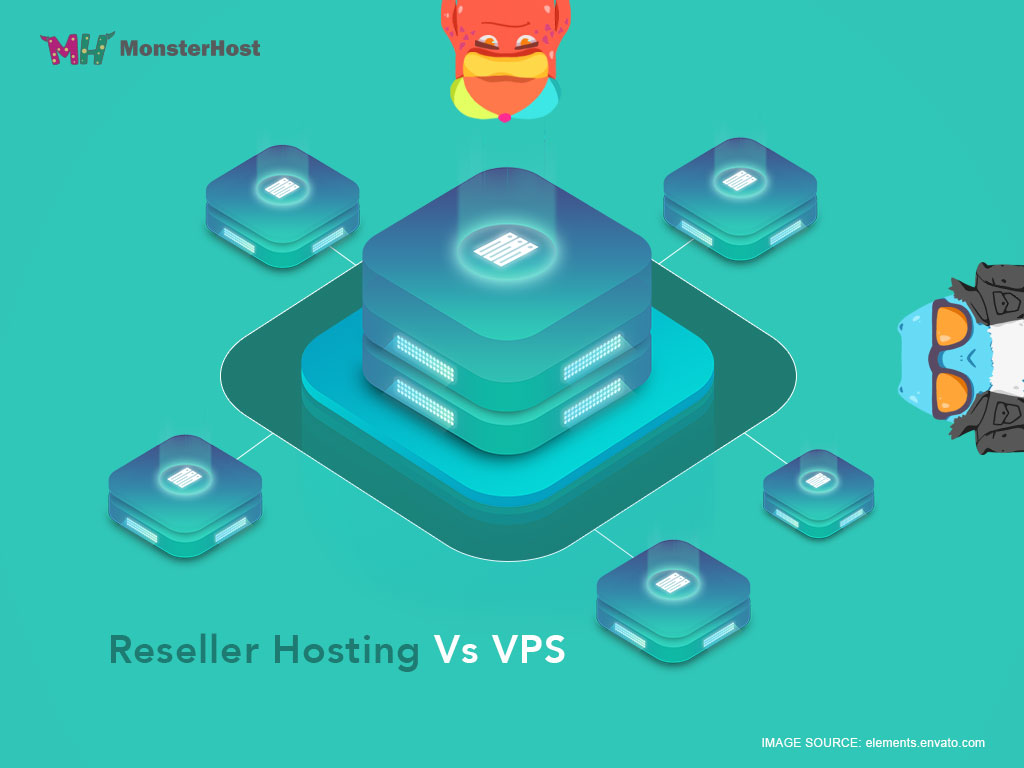 The platform that hosts your website is just as import as the professional look and feel of your website itself. If your awesome, efficient and user-friendly website in on an underperforming hosting platform your hard work is all for nothing. When a hosting service is good, your pages will load quickly, you will experience little to no downtime and you will have happy returning customers. However, there are many hosting options so which do you choose? Let us look two options, reseller hosting and VPS to help you decide if these hosting options are best for you.