Businesses can no longer reach their full potential if they don't have a good website. Websites are vital. They expand your brand by increasing its online presence, they help establish your brand's credibility, and, depending on how you set them up, they can earn money for you while you sleep. It's no wonder there are millions of new websites every year. And millions of websites mean millions of people who need web hosting, so they can store those websites.
If you've noticed that this is a huge marketing opportunity for you, but you don't quite know how to cash in on it, you've come to the right place. We've been noticing for a while that there's quite a bit of confusion about whether people looking to sell web hosting should choose reseller hosting or unlimited hosting, so we've created this guide to help you decide.
If all of this sounds only vaguely familiar to you, and you're not even sure what reseller hosting or unlimited hosting even are, this guide will help you with that, too. Let's get into it.
What is reseller hosting?
Reseller hosting is a kind of web hosting account that's specifically designed for people who are interested in creating their own web hosting company. With reseller hosting, you rent server space from a web hosting company (like Monsterhost), and then you rent that server space to other people for a profit. You resell the hosting.
The reseller plan offered by Monsterhost allows you to buy unlimited domains, which is perfect for your growing web hosting business. This ability to buy unlimited domains might, incidentally, be why there's a bit of confusion between reseller hosting and unlimited domain hosting. But reseller hosting plans offer some extra features that you won't find when you choose unlimited domain hosting.
Features that are unique to reseller hosting:
When you choose a reseller hosting package from Monsterhost, we offer you everything you need to start your hosting business, including…
White label hosting
This means you'll be able to brand your hosting company however you see fit, and your customers won't know you initially bought your web hosting from (It'll be our little secret.)
WHM reseller panel
WHM stands for "Web Host Manager". This control panel allows you to manage your customers' cPanel accounts, even if you have no technical expertise. It helps you hit the ground running with your web hosting business, so you don't have to spend hours trying to figure out how to create different systems to keep track of your customers.
WHMCS billing software
This is a special kind of software that helps you keep track of your clients' payments. With this software, you can set up automated billing, so you don't have to manually keep track of which clients owe you how much and when the payments are due. And if a client misses a payment, the software will also alert you, so you can handle it in whatever way is in line with your brand.
cPanel and WHM
When you choose a reseller account, your customers can manage their own cPanel accounts, which they'll love. (cPanel is a user-friendly interface that makes it easy to manage a website, even if you don't know the first thing about website management.) Because your customers will be able to manage their websites on their own, they won't be contacting you every time they need to set up an email account or set up a domain or a CDN. cPanel is so intuitive to use that they'll be able to do all of this themselves.
This frees up your time, so you can focus on expanding your business.
Having access to the WHM panel means you'll be able to do everything you'd be able to do if you'd actually bought the server yourself. This includes creating hosting plans, creating different accounts, and even making some users admins.
Take advantage of the ability to create different plans and brand them in a way that will help you attract your ideal customer! You don't have to stick to the generic "basic", "medium" and "advanced" like some bigger companies do. You're just starting out, and your brand isn't as established, so you'll have the ability to play around with a few things until you find something that sticks – because reseller hosting is designed for you to create your perfect web hosting company. Add all the features you wish other web hosting companies had, and you'll be able to give your customers their dream web hosting experience.
You'll have all the powers of a web host manager without having to pay for expensive servers! And lower overheads mean bigger profits.
We've also designed our reseller accounts so that each customer can use your server with minimal disruption to your other customers. We help you keep your customers happy!
What is unlimited domain hosting?
Unlimited domain hosting means you can buy unlimited domains, but this kind of account doesn't have all the extra features that are tailor-made for people who want to resell web hosting.
All the advanced packages at Monsterhost offer unlimited domains.
How do you know if you should get reseller hosting or unlimited domain hosting?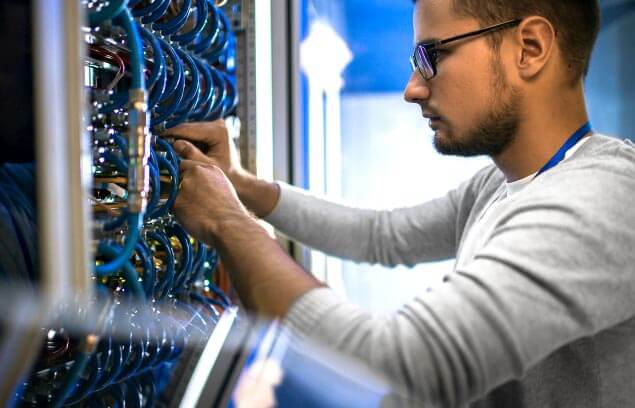 If you're interested in selling web hosting at all, then choose a reseller hosting plan.
Whether you choose an unlimited domain plan or a reseller plan, you'll have access to our amazing customer support team 24/7, and your websites will be stored on our world-class servers. But our reseller plans were lovingly designed to help you become a worthy contender in the field of web hosting. So, take advantage of it if that's what you want.
The wrap-up
At first glance, reseller hosting plans might look similar enough to unlimited domain hosting plans that you might not be clear on which plan you should choose. But if the reason you're interested in unlimited domains is that you want to start your very own web hosting company, a reseller hosting plan is precisely tailored to your needs. If you just want the option of having lots of domains, and you're not interested in making money from web hosting at all, you might be better off with unlimited hosting.
The most important thing to do is to decide what you want out of your web hosting. After that, choosing the right hosting plan will be a breeze, and you can register your domain with confidence!