Every business needs a website. And every website needs web hosting. It's easy to get caught up in the more exciting aspects of creating a website – branding, design, copy – and forget to give much thought to where you're going to store it. But, as many unhappy website owners will tell you, that would be a mistake.
Some of them thought they were saving money by choosing to operate their own web servers, only to find that the servers cost more than they could ever have anticipated. Not to mention the maintenance fees! The others knew from the start that they wouldn't last a week operating their own servers, so they decided to go the web hosting route – and they were on the right track, until they decided to settle for the first web hosting company that showed up in their search results. Or worse, they chose – we can't even say it – free web hosting.
"Free web hosting" sounds great at first, in the same way that "free surgery" probably sounds great (at first). But in both cases, you're probably better off just forking over the money and letting a professional handle it.
Eight reasons to get professional hosting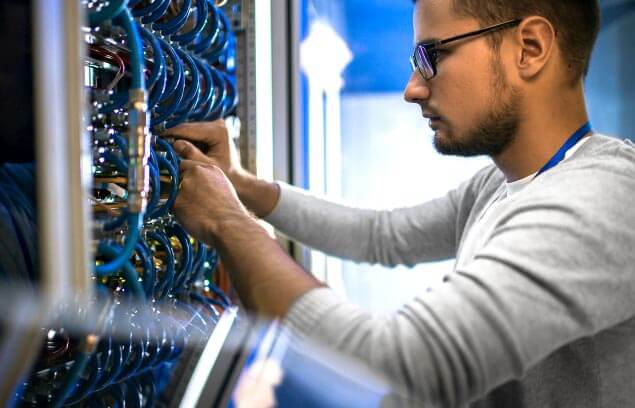 1. Professional hosting saves time and money
We know we were a bit frank about how much we hate free hosting. But there's nothing inherently wrong with looking for affordable hosting. We offer affordable hosting. (Our web hosting plans start at less than $5 per month.) But there's a difference between affordable hosting and free hosting.
When you buy affordable hosting from a professional web hosting company, you can trust that your hosting company didn't cut costs by giving you a slapdash, unimpressive product.
Professional web hosting saves you time and money, not by giving you an inferior hosting package, but by making sure you don't have to spend time and money doing anything that your hosting company should be doing for you.
For instance, we work 24/7 maintaining our servers, so you don't have to spend money hiring people to maintain your own servers or spend time on the phone trying to hunt down a customer service representative because your server has gone down for the billionth time. You have more important things to do.
So, choose affordable hosting. But make sure it's with a professional host. That way, you can spend time focusing on growing your business and bringing your dreams to life.
2. You'll get better customer support
Speaking of customer support, one thing that free hosts are terrible at is making sure their clients are happy. When you choose one of our hosting packages, you get access to our customer support team 24/7!
Even a tiny disruption in your system can result in a huge loss of web traffic – and potential customers. You need to make sure that if something ever goes wrong – even in the middle of the night – you have access to a strong technical support team who can get your website back up and running in no time.
3. You'll have more control over your website
When you choose free web hosting, you lose control over your website. Free web hosts often control what content can be shared, and they have so few templates that you'll often end up locked into a site design you're not very happy with, or that isn't really best for your brand.
When you choose a professional web host, you can add as many pages as you want to add to your website, you can share your content wherever and with whomever you'd like, and you'll have access to so many templates that you're bound to find one that's perfect for your brand.
4. Professional web hosts are more reliable
Free web hosts don't have much incentive to keep your website operating properly. But as professional web hosts, we take our reputation seriously. We can't afford to have your website go down for days on end, because we've staked our reputation on our 99.9% uptime guarantee.
That's why we monitor our servers so closely. If your website suffers, so do we.
5. You can get your own branded email address
This is one of the lesser-known advantages of choosing a professional hosting company, but it's true. If you choose a professional host, you can get an email address that matches your domain name and better suits your brand.
To elevate your brand and your email marketing campaigns, you need a branded email address (as in, [email protected] vs [email protected] or the ever-so-sneaky [email protected]).
And, to get a branded email address, you need professional web hosting. Did we mention that it's free if signup for cPanel hosting? Just check out this quick tutorial below for an idea of how it works.
6. SEO tools can help drive traffic to your website
Because we genuinely care about your website, we take an interest in your web traffic. We want to make sure that all your hard work pays off. That's why we offer SEO tools to help you analyse your website and give you reports and a step-by-step guide on how you can improve your search results ranking and your web traffic.
Free web hosts don't bother with all that. It would just be extra work for them. And if you managed your server yourself, you'd have to pay through the nose to hire an SEO expert. We have a team of SEO experts and an SEO tool that takes the stress out of increasing your web traffic.
7. Professional hosting is more secure
We protect your website from DDoS attacks, viruses and data interception. We also offer a variety of hosting options, so you can choose the most secure option for your business. For example, you can choose one of our dedicated servers, so that your business's website is the only website stored on a particular server. And because we're professional web hosts, even our shared hosting plans are secure, because we take measures to ensure the safety of all our servers.
And if something ever goes wrong with your website, we have a backup waiting in the wings!
You can forget about that kind of reassurance if you choose a free web host.
8. You could even start your own web hosting business!
You read that right. Professional web hosts make you money when you choose one of their reseller hosting packages. In case you've never heard of it, reseller hosting plans allow you to register unlimited domains, which you can then resell to other people. That means that not only does professional hosting save you money, but it can also make you money.
In the long run, free hosting costs you money. It really isn't worth it.
The wrap-up
Your website deserves professional web hosting. Don't waste time and money struggling with server maintenance or dealing with unprofessional free web hosts who don't care whether your website flourishes or flops. Choose a professional web host that gives you great customer support, helps you attract web traffic, and even gives you the chance to outperform your competitors with high uptime and high performance.