Building a community around your website is one of the best ways of maintaining customer interest in it. To make this even better, you should include a forum on your website. So, in this article, we share three easy steps on how to use our site builder as a forum maker to help you drive more visits to your website. You can also check out this post for more information about some of the other cool ways we help you save time and other resources by making everything super easy for you.
Reasons to Have a Forum on your Website
As mentioned earlier, forums create an opportunity to open your website to a wider, sustained audience. But, that's not all. Here are several other reasons you should have a forum:
Forums create new ways to interact with your customers, and for them to interact with each other. This type of communication allows you to learn about your customer base, as well as gather feedback without the involvement of third-party review sites.

Over time, on a well-moderated forum, you will establish yourself as an authority in the field you focus on. Additionally, the entire forum community will benefit from knowledge sharing from each other.

If you are the owner of a very niche type of product, or among a select few people who offer a particular service then a forum is definitely a plus. With the help of a forum maker, you could be in charge of the entire population of enthusiasts affiliated with your product or service. Additionally, you could grow this niche industry by keeping first-time visitors coming back.

Perhaps the most important reason is to help with SEO rankings. An active and robust open forum means relevant and current content that requires new pages which can be indexed by search engines.
First Steps to Create your Forum
If you haven't already, check out this guide on how to create your website, but if you have, let's get cracking. Most experts advise that your quest in creating a forum begins by procuring the right host and forum maker. MonsterHost website builder comes with a handy built-in blog plugin so you are already a couple of steps ahead of others.
1. Choosing a Theme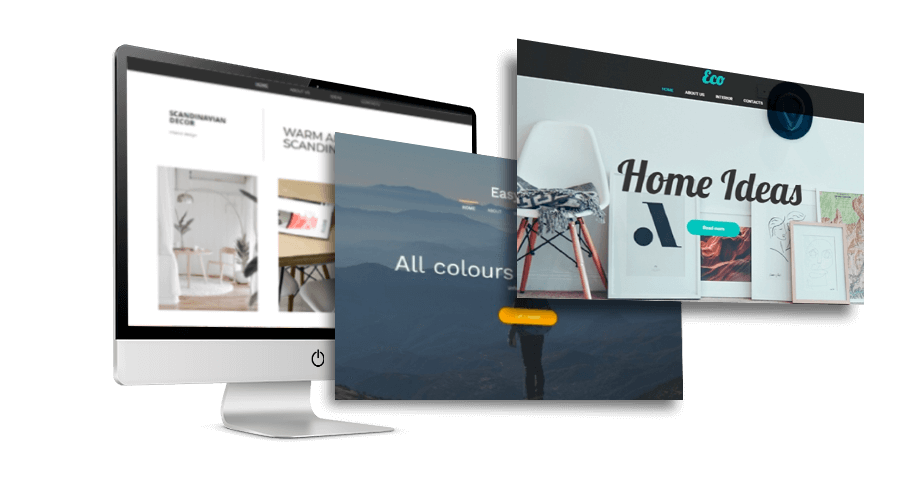 There are over 200 themes from which you can choose from our forum maker. Think about your theme carefully, and consider the following:
Some customers will be using smartphones, and other types of devices and not just desktops. Bear this in mind, as not every theme is responsive. Responsive themes automatically detect the size of the device being used to access your website or forum, and adjust the presentation for best user experience (UX).

Have you ever visited a website, and was greeted with a warning that specific web browsers would provide a better viewing experience? Similarly, some themes may not work on every browser. Before publishing, ensure you carry out tests to prevent these, and other foreseeable, issues.

Will you be serving a multitude of cultures of varying languages? Does it matter to you that they can view your forum in their mother tongue? Then consider using a translation-enabled theme.
2. Adjust your Settings
It is advised that your settings be public to benefit from maximum SEO exposure. However, if you have chosen to create your forum as a perk for premium customers, then retaining privacy is preferred.

Another important fact to consider is how responses will be made. How will threads look: can an individual response to a specific comment for example; can visitors respond as 'guest'?

Add labels to users, such as 'moderator', and tags identifying them in relation to longevity, such as 'veteran: over 400 posts and 1200 views'. Doing the latter is one way of helping users feel more a part of the community that you are trying to build, as well as being something to strive toward.

A search bar should be a definitive inclusion. Allow users the ability to browse through threads and posts at their leisure.
These are just some of the settings to consider when using any forum maker. Be guided by your individual forum's needs.
3. Publish your Forum
One way you can get the conversation going is by starting a few yourself. This may encourage older and more loyal customers of yours to begin using your forum. Think of questions or ideas that would interest them, and start there. Over time, the forum should organically branch out.
What to Consider When Operating a Forum
Having said that, there are some things that you will be required to do regularly now that you have used our forum maker to build your first forum.
Create forum rules! It is important that people know that if they behave in a certain way that there will be consequences. Develop your forum rules, as well as consequences for breaking them. Ensure these are easily accessible, and that there is a disclaimer advising that participating is consenting.

Publicize your forum! There are several avenues open to getting this done. You can promote via social media, by including links in your newsletter (if applicable), and by verbally spreading the word. You also can craftily include the link on other pages of your website.

Stay involved! Do not walk away now that you have published. A forum is like a verb: it's an action word. You need to moderate it, respond to questions, enforce rules, and otherwise display your authority. This is the only way the forum will stay alive, and relevant.

Actively solicit feedback! If growing your forum, and remaining relevant are your goals then you need to know what your users want, what they think of your forum, and their ideas for improving it. Asking them outright is one way, but you can also pick up clues as you moderate threads.
Conclusion
Using our forum maker is as easy as one, two three. In three steps, you can create your forum. By regularly moderating the threads, patrolling for trolls, and generally remaining involved, you extend the shelf life of your forum. Begin today by building your website, and ensure you install our forum maker plugin.