Owning a website is an essential part of operating a successful business these days. If you are a beginner, you need to choose the best web hosting company and efficient website builder to help with your SEO ranking. If you are looking for a high-quality web hosting company to extend your reach and increase website traffic but aren't sure which to choose we are here to help. Today, we'll look at two popular web hosting sites, MonsterHost and Wiks. Both sitebuilders offer web hosting and allow you to build your own website without needing advanced or even moderate coding skills. They do this by using a sitebuilder with simple and efficient drag and drop interface. This interface automatically generates codes so you don't need to.
We'll take an in-depth look at their prices, performance, features, and more, to help make it easier for you to choose between these two popular site building services.
MonsterHost.com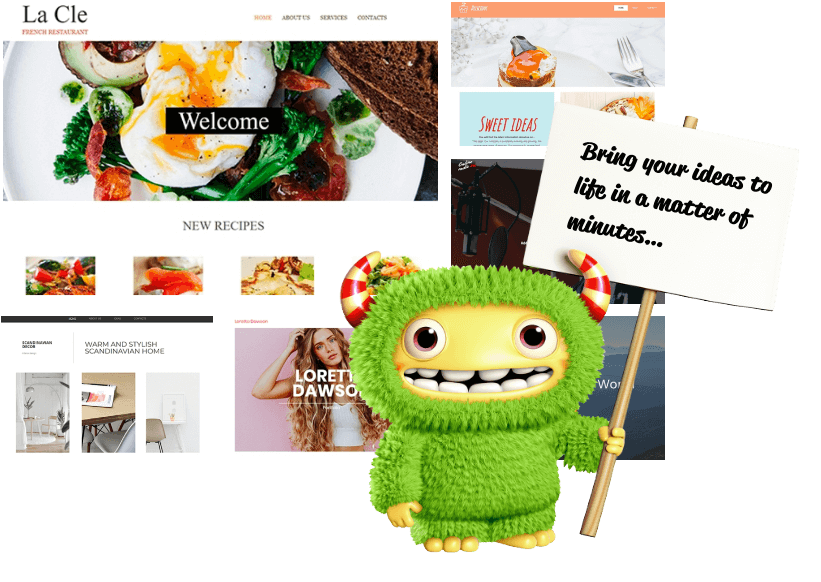 MonsterHost.com provides highly-responsive sitebuilder. All designs adapt to different screen sizes, so your website will look great on all screens. It has amassed a following, because of its ease of use. Not only does MonsterHost offer numerous stylish and professional easy to use templates, but it also provides high quality web hosting included with each sitebuilder plan. All its templates are straightforward and responsive and you can modify them effortlessly. Templates are also SEO friendly.
Its comprehensive web hosting packages, come at competitive prices while offering 99.9%, free email and increased website traffic. You can create just about any kind of website with MonsterHost and can scale them as your need grows.
Wix.com
Wix is a site builder that also helps you to easily build professional-looking websites by yourself. With Wiks you can sign up for a free website. Free websites do no generally offer enough resources to properly increase website traffic and grow your following.
Wix started in 2006 and has since grown immensely because of its DIY style, website builder that uses drag and drop for easy customization of templates. MonsterHost offers a similar website building tool as well.
Comparison of MonsterHost and Wiks
There is no question that both these website builders make creating a website a walk in the park. But, how do they differ in performance? And most importantly, which is a better option for you? Below we compare seven elements in a side by side comparison of MonsterHost and Wix.
1. Cost
MonsterHost offers cheaper plans without advertisement compared to Wiks. MonsterHost's cheapest plan starts at €2.70. There is also free email, no setup fee and all plans are eCommerce ready.
Combo is the cheapest ad-free plan that Wix offers that starts at $13 per month. It also offers a free website and seven paid plans. The three most expensive plans allow eCommerce.
Both hosting solutions offer multiple payment methods for e-stores.
2. Performance
The average template loading speed for MonsterHost is 2 – 5 seconds. We are currently improving templates to ensure faster load speeds. All our templates are responsive and support mobile screens. Website owners can even do further edits to mobile views to display or remove content, as they like.
A number of website builders seem to perform better than Wiks as it relates to speed. This is mostly evident especially on mobile devices as Wiks tends to perform poorly on mobile.
3. Free web hosting plans
MonsterHost doesn't offer free website plans. Instead, it offers a cheap $3 plan that provides free domain extensions such as, .com, .net, .org, .biz or .info. However, anyone who signs up for annual plans will get one free domain with any of the domain extensions mentioned above. We also offer free site migration.
Wix offers a free plan. However, this plan has several visible ads. These include advertisement logos on both the side and bottom of your webpage, which can be inconvenient and may in some cases lead to competitor sites.
4. Website security
With MonsterHost SSL certificates are a part of every web hosting package. Wiks also provides SSL certificates to users.
SSL certificates represent an international standard security technology that encrypts communication between a web browser and a web server. It also protects sensitive information about you and your company as it travels over the internet. Having an SSL certificate can also help with your SEO ranking.
5. Customer Support
MonsterHost provides 24/7 customer support. That means you can speak to an actual expert every day at any time to help you deal with technical issues on your website. You can also find resource material to assist you through guides and tutorials on MonsterHost.
On the other hand, Wix does not provide round-the-clock support. However, it offers phone and email support at scheduled times on weekdays. You can submit a ticket or request a call-back. That said, Wix does have one of the best online resource centers with guides and tutorials.
6. Templates
MonsterHost offers responsive and SEO friendly templates that are easy to navigate as they are arranged in categories. You can choose from over 45 languages the language of your site.
Users can also get access to the template's code through our advanced feature. This works similar to open source software giving developers to ability to further modify and enhance templates.
Wiks has over 500 stylish and fully customization SEO friendly templates as well. They are HTML5-based and flash-based. These templates are also divided into categories so that it's easy to navigate.
7. Switching templates
With both solutions, it's pretty easy to work on personalizing more than one templates at once. You can add your content, logo, and prices using the drag and drop.
With MonsterHost, you can change templates without losing content. However, with Wix, you can't swap templates without losing all the customization you did on your website. You can change the design of the template but can't simply switch it for a new one.
Final verdict
Both MonsterHost and Wix provide excellent products for individuals wanting to start their first website. The difference is that both take you on different yet similar routes. Wiks has a powerful and intuitive website builder and offers thousands of templates catering to specific industries.
MonsterHost also provides a wide array of professional, well-designed templates suited for different industries as well but allow you to install WordPress and other content management systems in just one click.
Both solutions can have your new site up and running in no time, while offering free email and social media integration. We have broken down everything about these two solutions above and the choice is up to you to see which better suits your need.