Can you remember a scenario where you decided to exit a website because it was hard to use? Maybe you were unable to navigate your way through different pages and the popups made it worse. Maybe it was the design of the website that was too overbearing. Whatever the case, you decided to leave that website because it wasn't user-friendly. The key here is to perform usability testing to enhance your website.
When it comes to creating a website in today's digital culture, you'll discover that development and promotion are at the top of most entrepreneurs' and enterprises' agendas. Website designing features are merely an addon for some owners as they prefer to have a lavishing website instead of a simple effective one. Yes, you want to ensure that your visitors have an unforgettable experience when they visit your website, but what about user experience?
Your website should be as effective as it is stunning giving users a flawless browsing experience.
A usability test is the best way to see how well your website performs.
This article will look at usability, usability testing, why usability testing is important, its principles and the amazing features websites should have. It will also look at why it is vital to get a better understanding of website designing features that help to facilitate a great user experience.
Let's kick start with defining usability.
What is usability testing?
Usability is a concept in UX design that can be defined as the ability to use something easily, in this context, a website. Usability testing is the practice of testing a design in a group of users to see how easy it is to use. It gives direct feedback on how users interface with the system and the outcome.
Why is usability testing important?
You've built your website with the best website design features and you're ready to publish, however, before doing so run a quick website usability testing. This will provide instrumental benefits in the long run. Here are a few:
Reduced Cost: Time means money and the longer it takes for you to notice there is a problem with your website the more money you'll have to spend to resolve the issue. Plus the more you'll also lose since customers are having trouble using it. The sooner you discover the issue, the better it will be on your wallet. The answer? A simple usability test.
Loyalty: Once users enjoy your website designing features and interface, they will more than likely come back. Some will not only be regulars, but they will also recommend your website to other users.
Customer Behavior: understanding your users' behavior will help you to make strategic decisions geared towards better performance.
If you're trying to reach a wider target with your website, another factor to consider is the WCAG (web content accessibility guidelines) standards. These standards were created so that websites meet the need of those with disabilities. Categories of disabilities that can affect user experience are; auditory, cognitive, physical, speech, and visual. The four principles that WCAG upholds to meet the website usability needs are:
Operable – your website user interface must be operable.
Robust – your website content must be easily and reliably interpreted by all users.
Understandable – the information on your website must be understandable.
Perceivable – information should be presented in a way that can be perceived.
How to improve your website usability
Let's take a look at some of the best practices you need to follow to make improve your website usability. Once these principles are applied, your website will be more effective, resulting in more traffic and revenue.
1. Accessibility and Availability
The most important aspect of your website is accessibility and availability. Consider this: if your users try to browse your products/services and make a purchase on your website and it isn't available or accessible, they will quit. An unavailable website leaves a bad taste in the user's mouth and also decreases your revenue. This can further go on to decrease the traffic to your website if this user leaves a bad review.
Things do happen in the digital world, if this issue occurs once in a while, that is fine. If such rare cases ensure that you advise your users you were aware of the downtime, apologize and move on. However, if the issue persists, then users will eventually stop visiting.
Below are a few basics of accessibility and availability.
Server uptime
It's important to invest in good hosting for your website, especially if you know you will have an influx of traffic to your website. Never go for a hosting provider just because the cost is low, this may cost you a lot of downtime in the long run.
Broken links
There are a lot of free tools available to help you find broken links on your website, ensure that you take advantage of them. No one wants to click on a link from your website and, it does nothing.
Mobile responsiveness
Your website being mobile-ready is important. A lot of visitors will be accessing your website via cellphones and, this will help them to get better results, and by extension so will you.
2. Clarity
Clarity is the core of usability. A visitor should visit your website and remember their initial goal. There must be no confusion or distraction on your part. This is where deliberate usability in web design comes in. You can achieve a clear and usable design by keeping your website:
Simple – simple and easy navigation that doesn't cause any distractions to users.
Familiar – Ensure the structure of your website is comparable to other popular websites as possible. Use other websites as inspiration based on the type of content that you upload.
Consistent – make the experience throughout your website consistent.
Guided-don't expect your users to find everything, have little signs here and there to help guide them throughout the website
Direct feedback – provide feedback to users based on their interaction with your website.
Good information architecture – understand your user's preference in design, it makes for consistency.
3. Learnability What is usability in web design?
Users interact with different websites daily and as such, they are familiar with the design concepts used. Once these website designing features are used consistently, the user's expectations will be met.
Users will appreciate a website that has a familiar layout to other websites they visit regularly. If it is hard to understand your website's navigation, users will bounce. Navigation needs to be simple and a priority for all users. Once you add clickable links to your content, make it clear. Make it extremely apparent that this image or text can be clicked; otherwise, visitors will be confused about where to click.
A great website designing feature would be adding silent notifications to assist those users that may need a little guidance on their first or second visit.
4. Credibility
Users need to know that you are reliable and trustworthy. Trust keeps traffic flowing to your website. Users may question whether your company is legitimate, as well as your reputation and content quality.
A good example is going to a travel agency's website and not seeing any information about the agency. You're only seeing where you can go to get help and how much it will cost you. Users become even more concerned if each time they click on a tab, the "make payment" option pops up.
This is why it's important to have an "About Us" page on your website, whether for an organization's or an individual's site. This tells users the story behind your website, providing vital information. Adding this content helps to build a connection with your users. You can also include contact details, physical address if this is one, and a contact form.
5. Relevancy
Imagine visiting a website called "Best Burger Joints" and recognizing that the content presented is related to all types of fast food and not what the name suggested. You visited the website because you wanted to find another burger joint to visit and add to your list, however, that's not what you get. All this irrelevant information on the website about other fast foods makes the search process excruciating. So, you do what any frustrated person would do you bounce.
To prevent this from happening with your website, ensure the content is relevant to your brand and the information you added to your "About Us" page..
What is usability in web design?
Many wonder what the role of design is as it relates to usability. The design of a website is extremely important for usability reasons. Yes, there are a lot of websites that look amazing, yet their user interface is awful. While on the other hand, some websites are very unappealing but extremely functional. You need to find that sweet spot where it's both beautiful and user-friendly.
The most important element of the website is its usability. Before creating a work of art, you must ensure it's usable. To create this successful website you will need to create a user-centered design using the most artistic yet simple website designing features.
How to do website usability testing?
By now you should know, that for effective websites, usability testing has to be a top priority. How will you know if you have problems if you don't test out your website?
Let's look at a few popular website usability testing methods:
Eye-Tracking – This is a technique for detecting where a user's gaze is directed on a computer screen. Increased engagement is one of the many benefits of eye-tracking that is advantageous to website owners. This will allow you to observe where users spend the most time on your website.
Heat maps – this is a visual presentation that allows you to see where users click on while browsing your website. It shows their click pattern.
Surveys – onsite surveys are a great way to test your website.
Moderated and unmoderated testing – with moderated testing you will have more direct participation. You can ask questions directly for clarification and the suggestions are made on spot. Unmoderated testing is the opposite, however, some platforms allow for predefined followup questions to gain a better understanding of how your website looks and works to others.
Use basic design elements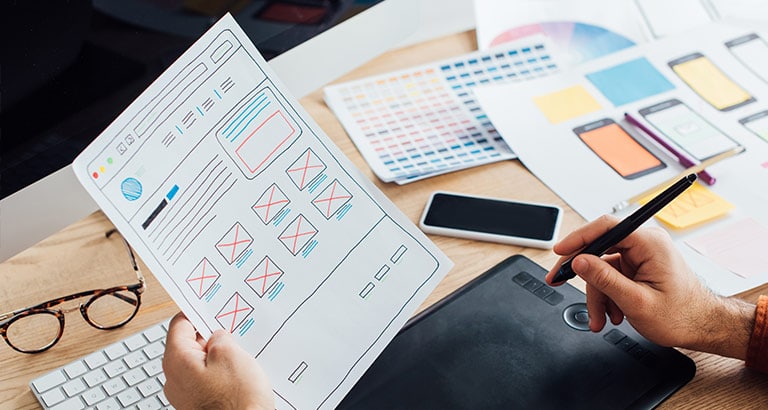 It can be tempting to get as creative as possible when designing your website. This is even more so intriguing depending on the nature of your website. However, it is best to follow web design best practices when it comes to usability. It's in your best interest to include the standard elements users search for when they visit a website, namely:
Contact information
Logo
Search bar
Social media
Main menu navigation
Following this guide could save your business in the long run. How? Well, let's say your website is a bit difficult to understand. With the web design best practices elements will click on something they are familiar with on other websites and manage to get around your site.
Conclusion
Usability is the ease with which your users can achieve goals on your website. You need to analyze your website to ensure it is usable, considering everything from credibility and clarity to accessibility and availability. After all, usability will make or break your ultimate goal for your website. Once users have a bad experience, they may never come back.
Therefore, keep in mind the best practices for website usability and usability testing. Designing a website that targets a wide array of users will result in more traffic and thus increase your revenue. Keep in mind that:
Credibility. Be reliable and trustworthy.
Mobile-friendliness. Remember a lot of users want to be able to access websites from their mobile devices.
Navigation. Keep this simple and correct.
Consistency. Your theme, color, and website design features should remain consistent.
Design Elements. Familiarity helps with easy navigation.
Of course, good usability won't happen overnight, and that's why it's important to test, test and test again. Without testing, you will never know how well or bad your website is performing. Use the usability tools that are at your disposal to enhance the experience users will have when they visit your website. Once you use the tips and guidelines listed above, you can accomplish website usability, increase your website traffic and increase your revenue. Set up a website fast and easy with these guidelines on Monsterhost.com. Get expert advice to enhance your site here or visit out blog for more.