Virtual Private Server hosting (VPS) offers independent, private space on a shared server and is a popular virtual hosting solution. VPS combines the best of both shared hosting and dedicated servers, resulting in control, speed, performance and flexibility at an affordable cost. There are two options – managed VPS hosting and unmanaged or Self-managed VPS Hosting. If you are caught between the two and are just not sure which to choose, we've created this post to help you.
We'll compare managed and unmanaged VPS and look at their pros and cons to help you to make a more informed decision on which virtual server hosting is best for you.
What is VPS?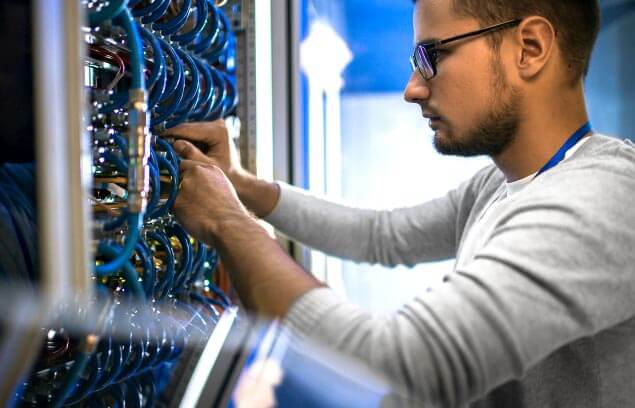 Here's a simple breakdown of what a VPS is. A VPS stores your website's files and data in a virtual setting linked to a physical machine. By using virtualisation technology to divide the physical server into multiple virtual machines, VPS is able to keep your information separate and private. With shared hosting, users share and compete for server processing power with other websites. This normally results in bottlenecks and downtime. As a VPS user, you benefit from dedicated resources such as memory, processor and storage. You also get to decide how to configure your server, even deciding which software to install.
Because there are two types of VPS hosting, you also get to choose if you want the web hosting provider to manage the running of the VPS for you or whether you want to manage it yourself.
Managed VPS Hosting
Managed VPS hosting will differ depending on the hosting provider. This Virtual Private Server solution offers a 'hand-off' approach and is great for persons without any technical knowledge or experience in running or maintaining a server. It leaves the running of the server to your web service provider who will typically take care of the software and system updates that you request. Imagine having a team of experts handling all the heavy-duty work of navigating your hosting.
Advantages of Managed VPS Hosting
Managed VPS offers a number of advantages and if control is not what you seek it will leave you a worry-free customer:
Even as a novice, there's no need to worry about server management as trained experts will setup and configure your VPS for you.
Access to 24/7/365 VPS support and monitoring.
99.9% uptime with fault-tolerant mechanism and infrastructure.
Scalability. You can easily upgrade server resources like RAM, CPU and bandwidth with your VPS requirements.
Enhanced security. Since the service provider takes care of all vulnerability scans, required security patches and essential upgrades.
You have time to focus on content as server maintenance and monitoring are taken care of by the web service provider.
Disadvantages of Managed VPS Hosting
There are always two sides to a coin so of course, managed VPS has its downside as well.
Less control over your website because your service provider takes care of all that for you. It is important to use a reputable provider.
Managed VPS is more expensive than an unmanaged VPS.
You will have to work with the content management system and Operating System that the web hosting provider uses
You won't be able to use certain types of plugins
Unmanaged VPS Hosting
Unmanaged VPS hosting gives you total control over your server. The only thing the hosting provider is required to do is provide the network connection and the virtualisation platform that houses your server. You are responsible for everything else, such as setting up of server, configurations, maintenance, upgrades and installation of software. Before choosing an unmanaged VPS, ensure that you are familiar with the operating system and server software you will choose to use.
Advantages of unmanaged VPS Hosting
If you want complete control to configure your VPS to your liking then you will love the level of freedom you have with unmanaged VPS. This high level of control is also what contributes to its other advantages.
You have control of everything that happens on your VPS. You get to choose what happens and when it does. Nothing happens unless you want it to. Instead of waiting around for the web service provider to do updates, (like you would with managed VPS) you do it yourself.
Can be configured to meet your specific needs or those of your client
Unmanaged VPS is more economical than managed VPS since you do not have to outsource the running of your server from your provider.
If you have the technical knowledge, unmanaged VPS allows you to do whatever you want on your server.
You can install personal VPN.
Disadvantages of Unmanaged VPS Hosting
There is always a flipside to everything so no surprise here, knowing that unmanaged VPS has its disadvantages as well.
Doing all the work of running your server, doing installations and backups is time-consuming and can take away from the time you could spend building your business.
Although initially managed VPS Hosting is more expensive than unmanaged hosting, over time, this price gap can get vastly narrow.
Security may be a factor. You will have to spend more to install additional security.
Final Thoughts
Both managed and unmanaged VPS offer great features but are ultimately for two different kinds of customers. If you are neither tech-savvy nor interested in being the administrator for your server then the Virtual server hosting solution for you is a managed VPS. You will have a team of professionals taking care of your server needs including, support, software, installations, updates and backups. This leaves you with ample time to focus on growing your website. However, having a web hosting provider manage your server will cost you a little extra.
On the other hand, unmanaged VPS is for individuals, who have technical knowledge and/or want the freedom to solely control, customise and expand their websites. The downside to this is that the service provider will not provide any assistance. From installation to backup, everything is up to you.
Ask yourself how comfortable you are to manage your virtual server. Would you prefer to have your VPS provider manage all updates and potential security risks for you? If you would prefer the latter, let us at Hostname provide you with the best hosting UK has to offer. Our managed VPS plans give you access to round the clock support and 99.9% uptime.
Read more about managed versus self-managed VPS here.