Your Hotmail address is just fine for sending cat videos to your Aunt Karen. But if you want to make a good impression on your customers, you need a crisp, professional email address – one with a custom business domain name. Sure, you can kind of fake it. You can probably keep emailing potential customers from charlie.amazingbrand@gmail.com.
You probably think no one will notice as long as your business name shows up somewhere in there. But we notice.
We notice.
And deep down, you already know your business would look better if you were emailing customers from charlie@amazingbrand.com. Even teeny, tiny, one-guy-and-a-laptop companies use custom email accounts for their email marketing platforms. A good, professional email account is one of the easiest ways to legitimize your brand, and as a bonus, it silently promotes your brand with every email you send!
And here's some good news: You don't need to be a tech whiz to do this. And you don't need buckets of cash, either. You can create an engaging online presence for free! If you want a few more bells and whistles, though, don't think you'll need to break the piggybank. You can get the classy, expensive-looking online brand you've always dreamed of with just a little bit of smart budgeting.
So, you don't need to be the next Silicon Valley technology wizard, and, as long as you use a company that offers low-cost web hosting services with email signup, you don't need to have millions stashed under your bed, either.
Do this to set up your email account:
A website with a professional, easy-to-find domain, like amazingbrand.com, amazingbrand.lu, or whatever strikes your fancy.
(Not sure where to get a professional domain? Choose from our endless list of affordable options.)
Web hosting and email hosting.
The difference: Web hosting vs email hosting
Web hosting is a service that gives your website an address on the internet so web browsers can find it. Everything you put on your website is secured on a server.
Email hosting is a service that stores your emails on a server. If you want to create an email account that uses your website domain (super important for attracting customers through email marketing platforms!) you'll need email hosting.
You can get these services separately, but the most cost-effective option is almost always going to be choosing a company that lets you combine web hosting services with email hosting services. This way, you'll have everything you need to have a website and a customized email address.
Security is also really important. There's no point in spending hours building an amazing website without making sure it's saved somewhere else. Go with a web hosting service that uses cloud-based backup. That way, your website can be stored in a separate, secure location, but you can also access it really quickly if you need to.
TIP: This can get pretty complicated if you don't know where to look. Choose a web hosting service that gives you access to easy domain registration with free email signup.
(Don't know which web hosting service to go with? We've got you. In fact, we're so confident in our service that we'll let you try us for 30 days risk-free!)
And now that you know all the basic lingo…
Set up your own email account
With these 8 no-sweat steps, it's ridiculously easy to apply for domain registration with free email signup on Monsterhost.com. If you'd like a video on this tutorial, you can click here.
STEP 1
Log in to your web hosting account on Monsterhost.com. When you log in, you'll be taken to the client dashboard area.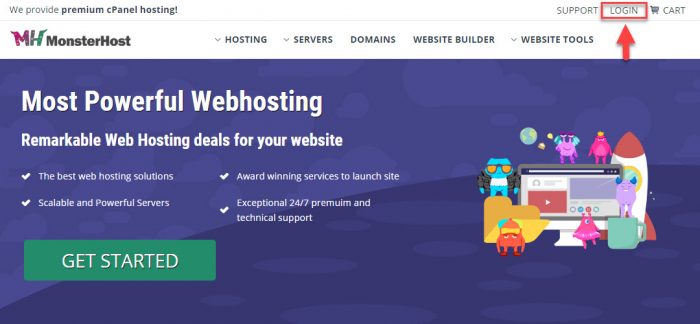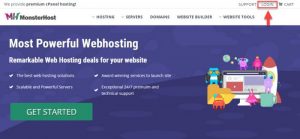 STEP 2
Click on the part of the dashboard that says Services. You'll be taken to a page that looks like this: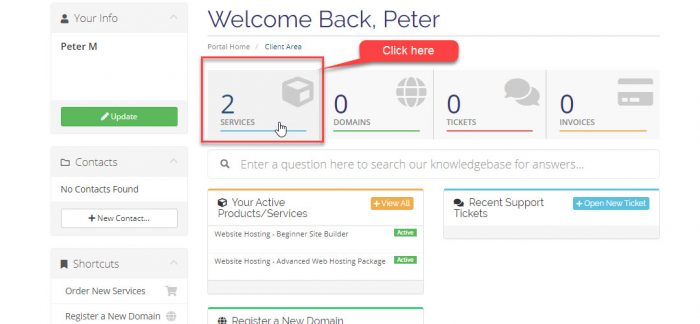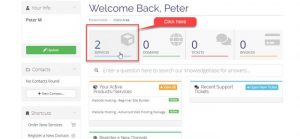 STEP 3
Click on the web hosting plan you want to add your email domain name to. (If you have more than one web hosting plan, you'll see a list of web hosting plans instead of just one.)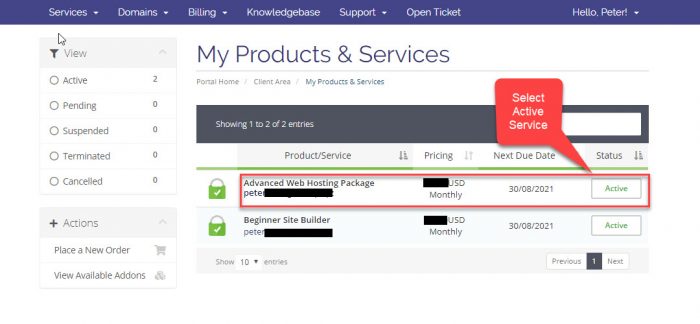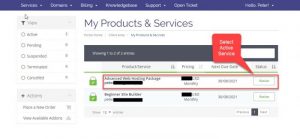 STEP 4
Now in the web hosting services dashboard, look for the section labelled Quick Shortcuts. In that section, there's a little icon labelled Email Accounts. Click on that icon. This is the cPanel email accounts management page. From here, you can see all existing email accounts.
This will take you to a page that looks like this: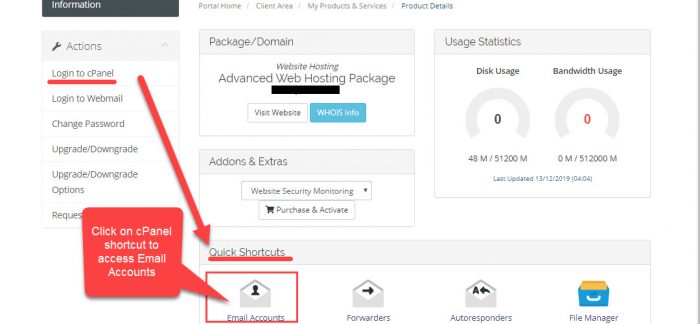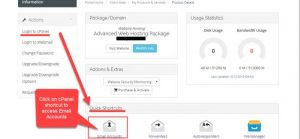 Note: You can access this category directly in the cPanel if you don't see it right away.
STEP 5
To create an additional email account within cPanel, click the blue button that says Create.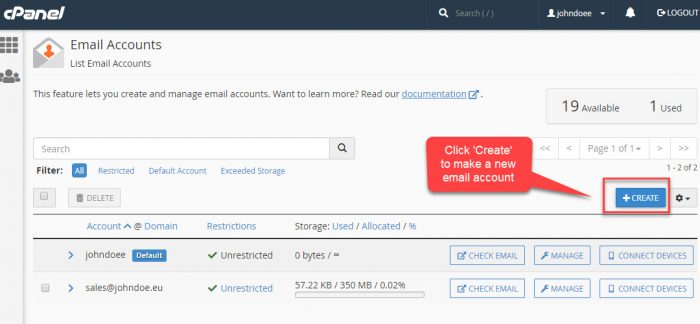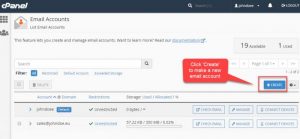 STEP 6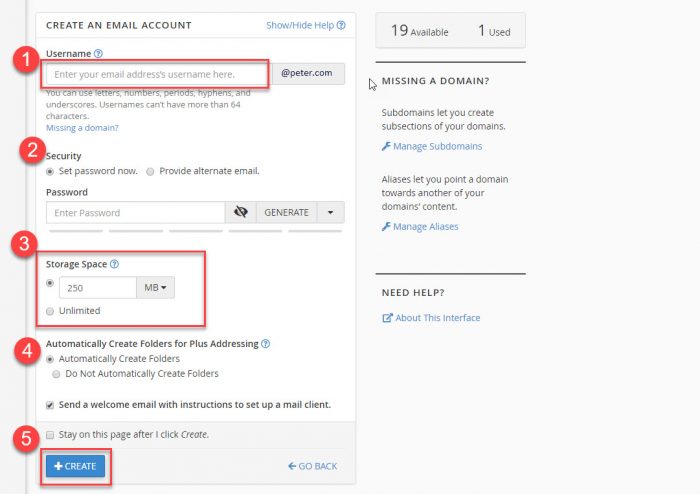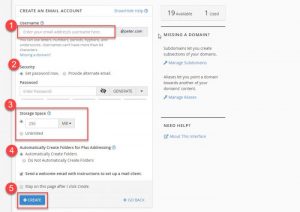 Enter the email address you want your customers to see when you interact with them. Choose a secure password you'll remember. You can also click on the Generate button next to the password area if you want a password to be generated for you, instead. Make sure to write this password down and keep it somewhere safe.
Choose how much storage you want your email account to have.
Click Create.
That's it! You're done. Congratulations on your new email domain name!
(Told you it was easy.) From now on, you'll just need to log into your new custom email account, and you'll be able to manage all your emails.
After creating a custom email account
Now that you have your own custom email account, what do you do with it?
A custom email address provides a way for visitors and customers to communicate with your business or website, so they can let you know what's working (so you can keep doing it) and what's not working (so you can fix it before they take their business elsewhere). Responding to these customer emails shows that you really care what your customers think, and that sets you apart from all the other companies clamoring for your customers' cash.
With an email account, you can also engage in email marketing campaigns to strengthen your brand's online identity and to let your customers know when you have new products to offer them.
Quick recap
Customers feel more confident in your business and your brand when you have a custom email domain name. Adding your company name to a normal Hotmail, Gmail or Yahoo address isn't enough if you want to increase your brand positioning and attract higher-paying customers.
And now you know exactly how to create a custom email address using your own domain name.
Monsterhost.com gives you great web hosting and email hosting options. The hosted exchange emailing services is highly recommended. However, for websites on a budget, cPanel's built-in emailing service is an excellent cost-effective option!
Take your business to the next level. Treat your business to its own custom email domain name.