Like many businesses, word-of-mouth accounts for 90%+ of our business growth. It's wonderful that our hard work and commitment are recognized by devoted customers who refer us to new customers. We also recognize that many NGOs, clubs and societies, and small businesses may be experiencing financial limitations this year as a result of COVID. So, for that reason, we want to reward you or your company for each new client you bring in. With MonsterHost's affiliate program, you will receive 50% commission for all successful and new hosting orders from your referral links.
Easy steps to become a hosting affiliate
If you'd want to begin this process, we've produced this simple, step-by-step guide on how to add an affiliate banner to your website. Let's begin.
1. Become a member of MonsterHost's affiliate program
Register for our Affiliate partner program by visiting our affiliate website here.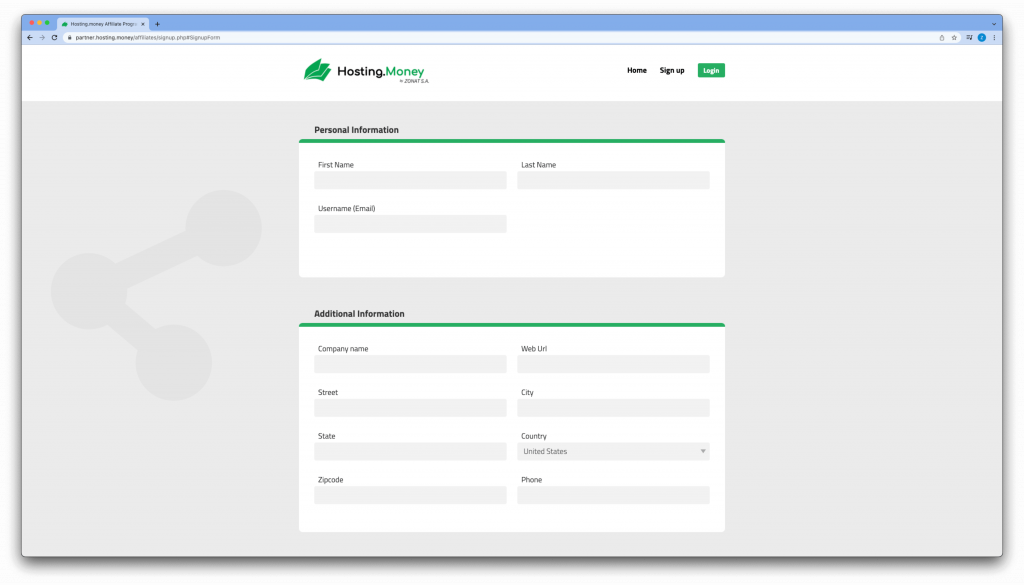 2. Enter your information to receive your commission
Once you become an affiliate, we will need a verified means to send your affiliate commission to. We will deliver your payment as soon as you reach the minimum earning threshold of €25. In order to receive your affiliate payments, make sure you give valid payment information. Once everything is completed, click "sign up."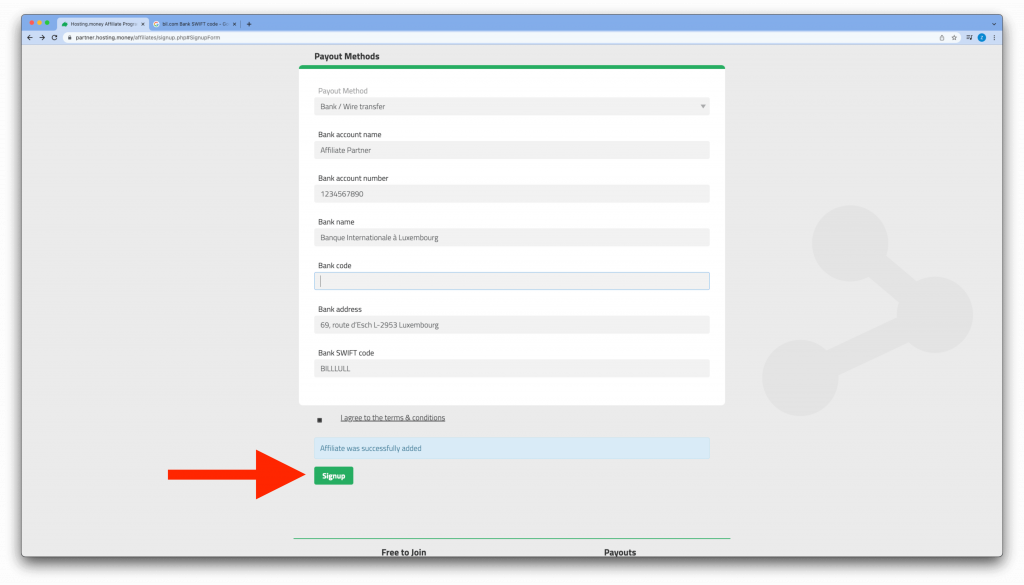 3. A big congrats! You succeeded. Well, nearly =)
The following notice will appear on your screen once your affiliate account has been successfully created.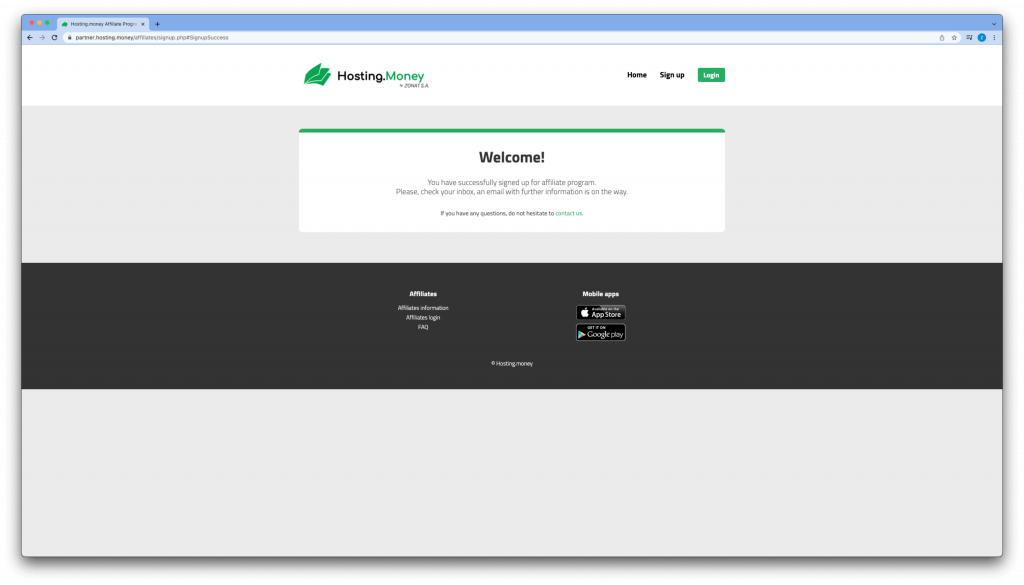 4. Approve the account confirmation email
Your freshly generated username and password, together with instructions on how to log in to our Affiliate partner program, will be sent to you through email by our program. It's crucial that you use the correct url from within our partner site because we run many brands.

5. Sign in to the hosting.money affiliate account
Now, please use your freshly created username and password to enter into your affiliate account.

6. Setup your first campaign!
Once you're on the client dashboard, select "Promotion" from the left menu and then "Campaigns."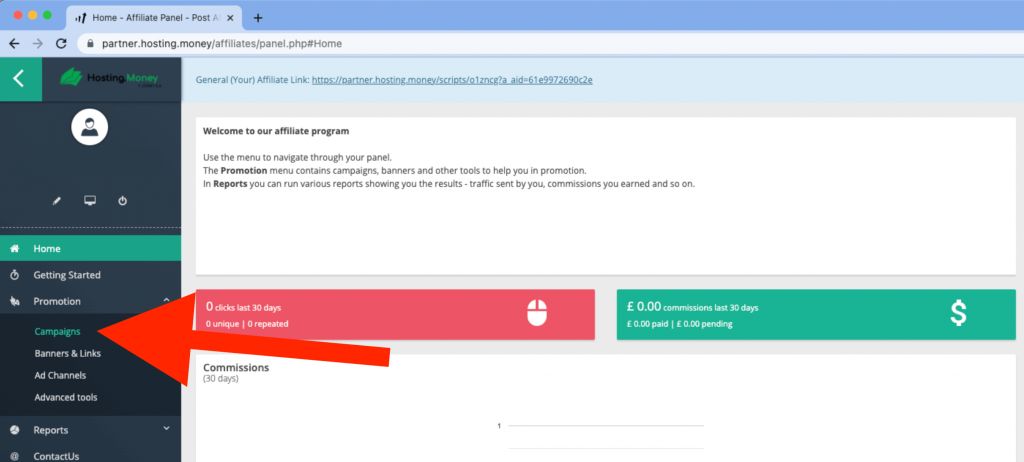 7. Select the MonsterHost campaign
Choose the MonsterHost campaign by selecting the "Banners" link.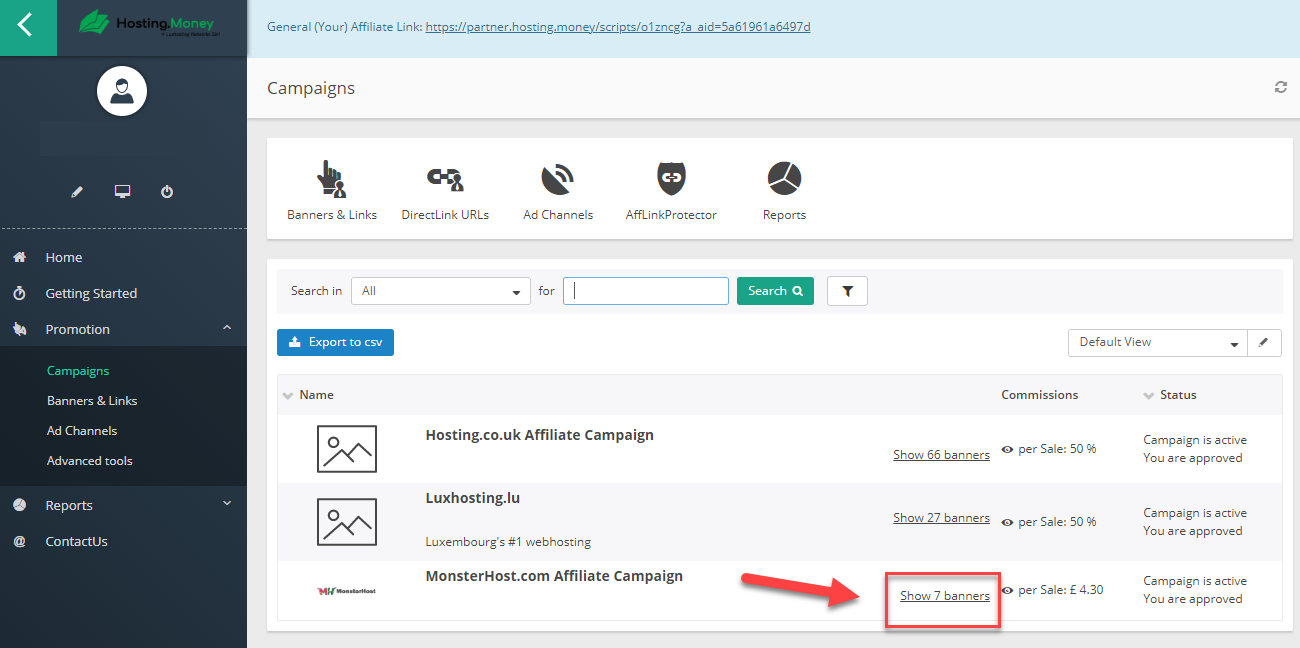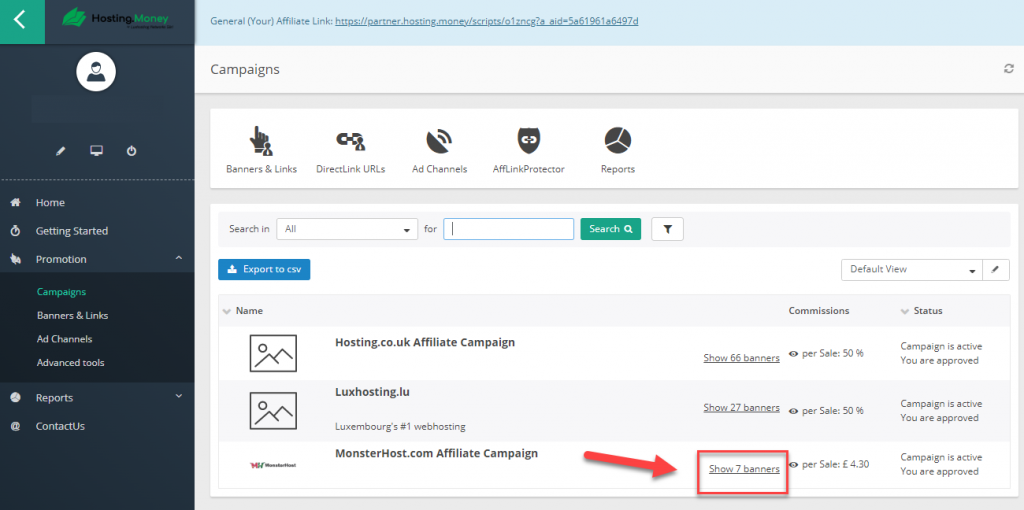 8. The appropriate banner or URL
You may discover all of our banners from our marketing team on this page. Don't let the sheer number of banners overwhelm you. Additionally, you will see banners pointing to our home page as you scroll down.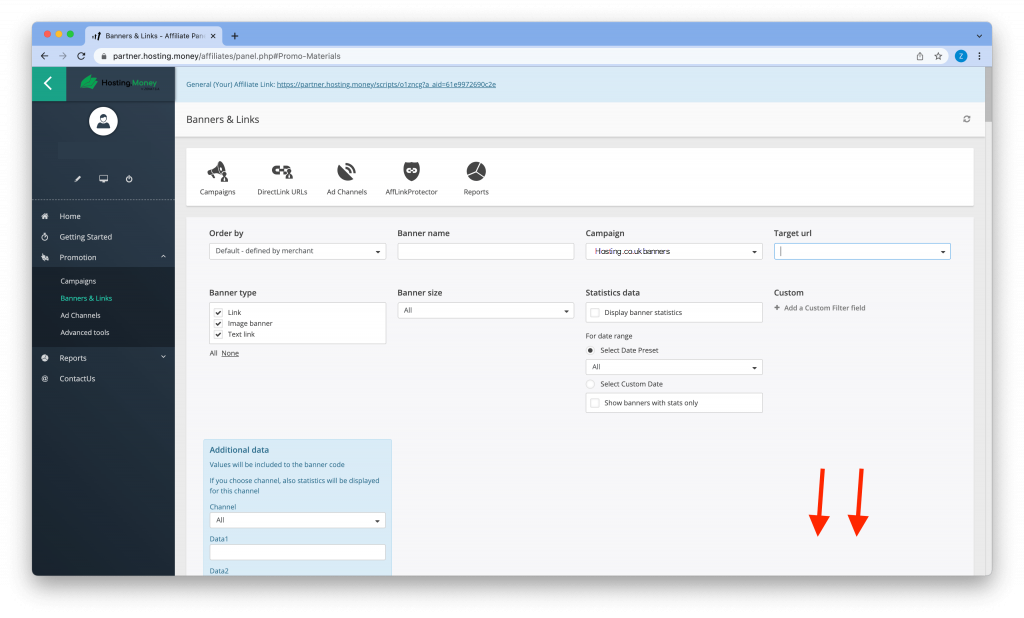 At this step, it's critical to identify the following: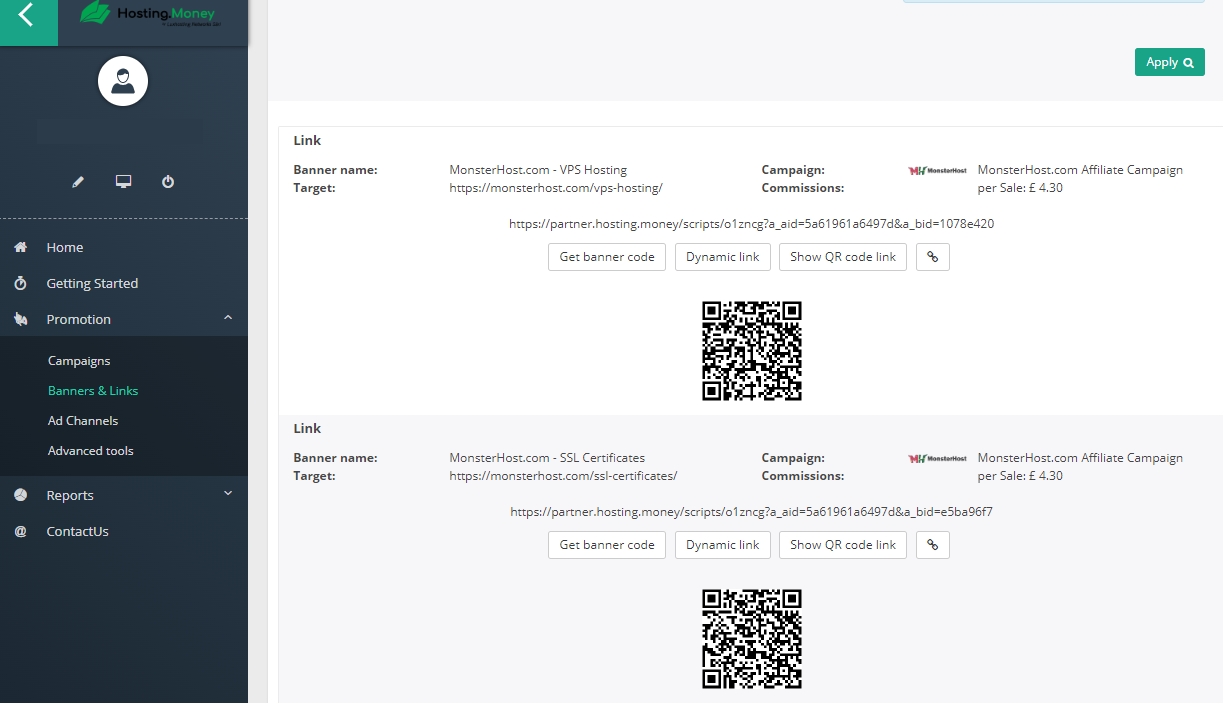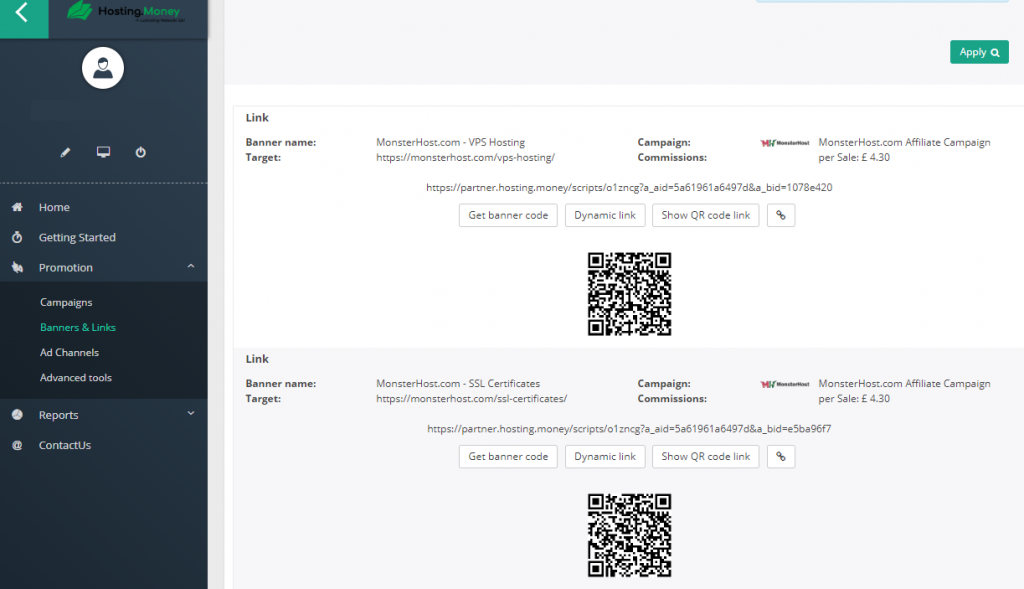 Identify your target: What page are you going to promote to your target audience? Would you like to advertise a unique product and have a link that leads straight to it? Or would you prefer to send visitors to our homepage only?
Obtain a banner code: You may embed your banner on your website using the HTML code that is provided next to each.
Link symbol: If you only want to receive the "Text url," select this option. So, this is the link you would need to provide if you wanted to promote us in your newsletter or on WhatsApp.
9. Now you can promote our hosting!
It's time to start sharing the URL after you've set up your account and decided the campaign you want to use. Here are some suggestions for places to post the banner or URL:
Send a newsletter to your mailing list with the copied URL or banner.
On your website, include the URL.
In the description, include the banner or URL for your social networking accounts (LinkedIn, YouTube, Facebook, etc.).
In WhatsApp groups, share the link.
Send your family and friends the link.
Ask our design team to assist you in creating a banner with a QR Code if you send print materials to your customers or members.
We wish you great success!