Last updated: Feb, 2023
Digital Education has certainly become more attractive over the years. Today, it offers a number of great and affordable advantages to both parents and students. Websites are known tools for information, providing adequate resource about schools, universities, education boards and online courses. The key to digital content however, is presentation. Presentation invites or detracts audiences searching for quality information about various topics of interest. In this article, you will find 10 sample website templates that can enhance your educational websites' presence, informational appeal and credibility.
10 Ideas to start your own education website in 2023
These templates provide a fresh, remarkable and unique edge to your website. They will help in making your audience know your website is professional, so that you stand out from the crowd.
Books
Campus
Coaching
Driving school
International University
Music School
Teddy's Garten
Western College
Youth Center
Talents
1. Books Website Template
If you plan to launch a book or just want to start your own book club then you need a professional website to go with it. Get inspired by our Books template.
Books is sample website theme geared towards online libraries and book clubs. What's fascinating about Books theme is its minimalistic appeal while providing a fully adaptive environment. It comes with clear class card designs, countdown timer designs for free courses, an edgy one-page design style, video backgrounds and more.
For an effective language learning website, 'Books' is a great option in our library!
2. Campus Website Template
Campus provides an amazing theme to create a website for schools and universities. They possess that professional edge in their layout and also provide a few key tools to make your website looking attractive. This template is responsive- fit for mobile screens, comes with a default gallery, a user-friendly appeal and more.
Campus offers ready-made pages besides the homepage such as "Books" and "About Us". This sample website ensures that you can add texts and images easily to create that unique appeal to your website.
3. Coaching Website Template
If helping people or companies to unlock their potential is your calling then this template will surely inspire you to start your website. Coaching provides a clean and up-to-date presence to your website template.
Coaching caters to a kaleidoscope of opportunities, whether you're an executive coach, life, empowerment, career coach. This niche is vast, so don't worry this theme is a great fit. It has many key features such as responsive mobile layouts, vivid parallax scrolling, fascinating image carousel, developer friendly HTML and CSS3 codes, gallery and more.
Customizing colors, elements and themes for your design needs are made easy.
4. Driving School Website Template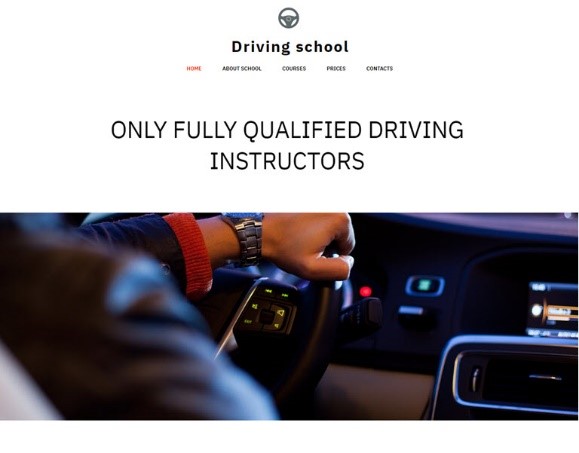 Driving School is the sample website for you if you're looking for a colorful yet discreet appeal. If your website is for online courses, learning workshops, schools or educational institutions, you may need to check out this option. The features include an optimistic feel, a large parallax scrolling header to attract audiences quickly and a subtle color scheme.
You can also incorporate videos and make them available about different classes. Remember videos are add exceptional diversity to your website.
5. International University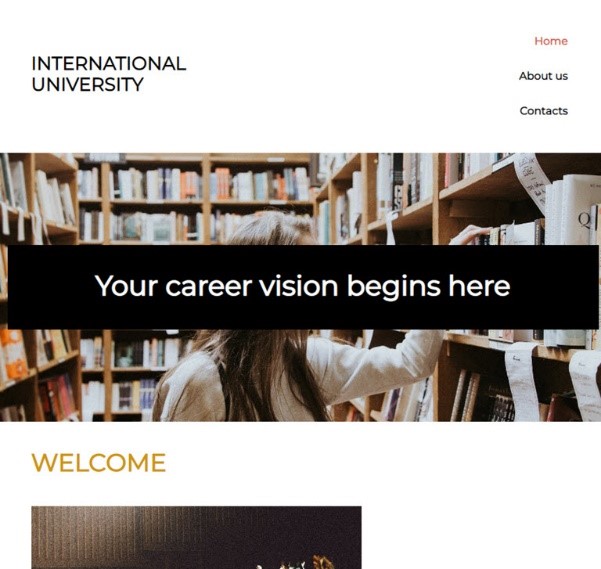 The International University template brings your tertiary presence to the fore. From homepage to all added customizable pages. Allow your audience to feel the academic nature of your content with this sample website as it is so fashioned to deliver those results. Welcome all your visitors from the homepage onward and also have them be aware of what your website is about and where you are going.
This template comes with an About Us and Contact page overlaid with an available area to upload vivid academic images showcasing areas of your campus.
6. Music School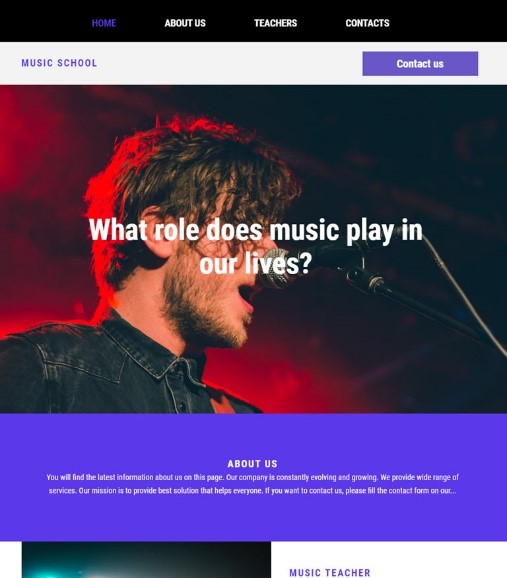 Music School isyet another template that lets your website standout with a comprehensive educational look and feel in a musical frame. Its modern style provides you with key features such as slots to highlight possible music events, band/teacher pictures, bio and more. As an extension, a "Contacts" page helps to expand your audience reach by sharing your location and allowing visitors to send you brief messages.
This template adds perfection to a discreet website for schools or universities desiring a musical touch.
7. Teddy's Garten
One template that caters to a professional looking theme for your website with a child-centered focus is Teddy's Garten. It is compatible with all web browsers and comes with a bootstrap framework. The key features of this template include Google maps, an image roll, appealing color themes and attractive images. Share upcoming events on your Events and News page while allowing interested persons to register their child or children with a cool Registration feature.
If you are searching for a sample website for a school or kindergarten, then this is a worthwhile option.
8. Western College
Western College stands out from other templates with an attractive design, elegant fonts, rich vivid icons and a homepage that says education. This template also comes with a registration form, Google maps and a cool grid design. For a minimalistic, user-friendly look and feel, this sample website is a formidable option.
9. Youth Center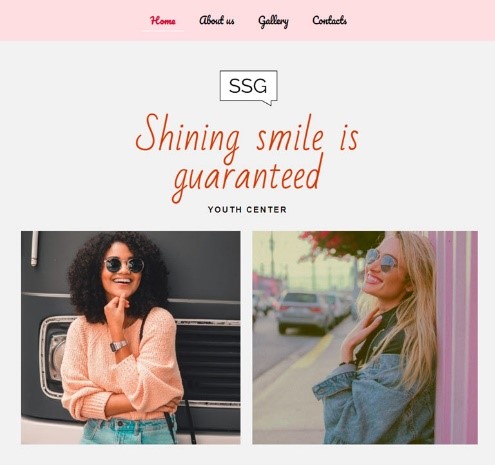 Youth Center attracts audiences from the get go with its amazing color scheme. Perfect for online courses, schools and university websites, this sample website comes with a modern, vivid appeal to satisfy your design needs.
It is highly compatible and features elements such as an interactive gallery, social media quick share links and more. With a contact section and different places to share your content, this sample website helps you to provide seamless information on your website.
10. Talents
Talents is an ideal sample website for your educational content. With an amazing homepage, this template allows your audience to enter world immediately. This template is best suited for a school or online course that caters to developing the educational needs of children and young adults.
Clear category tabs and a simplistic design stand out for this sample website, giving you the chance to design creative and attractive educational content for your website.