Educational websites play a vital role in whether or not prospective students choose your school, in assuring parents that they are making the right choice. They also help to provide important information for current students and administrators. Your website should therefore reflect these and other focal points.
To help you with this, MonsterHost currently has over 200 sample website templates. Simply tap into our easy site builder platform. But don't get overwhelmed. Today, we will focus on ­­­just 10 of the ones more suited for an educational website.
10 Sample Website Templates to Inspire You
1. Academy of Fine Arts
The first sample website is a simple and clean design that reflects the artistic intent behind your website. This template is most suitable for a tertiary institution but may be considered for a secondary or private school of any level.
2. Books sample website
Besides the really cool black and white contrasting color combination which you should definitely consider keeping, there is parallax scrolling on some pages. Also, in addition to the regular navigation bar ideally located at the top of the page, there are internal links that you can use to provide additional information about a specific topic. This can include profiles and success stories of students from the various countries within a certain program.
3. Campus
Using this theme would allow you to quickly display several important pieces of information on your website in graphic format. In fact, it comes with automated horizontal scrolling at the top of the page. This is a technique very common on educational websites. There is also a very prominent call-to-action button at the top which could be used to encourage potential students to apply.
4. Coaching
Another template that offers parallax scrolling, Coaching features bright colors and neatly curated spaces. A must have, call-to-action button is also included.
5. Driving School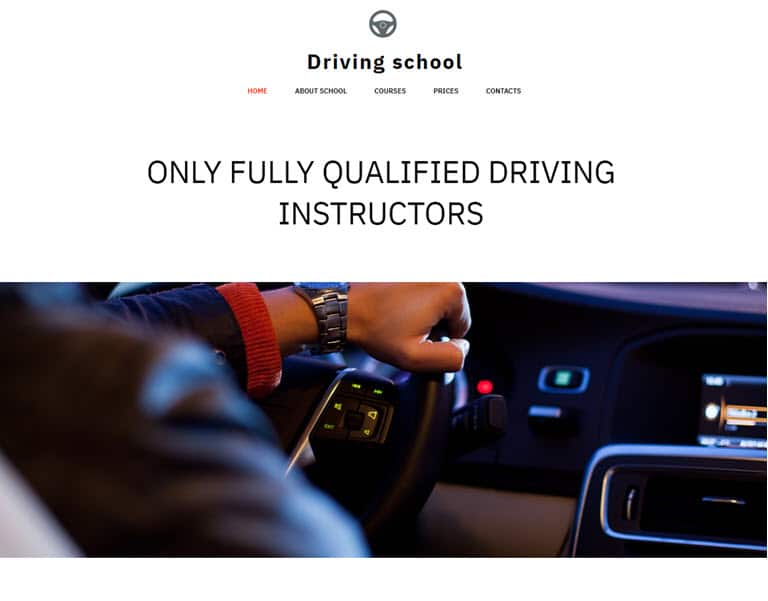 Consider using this template if your website will involve selling, as you can display prices and add an e-commerce plugin.
6. International University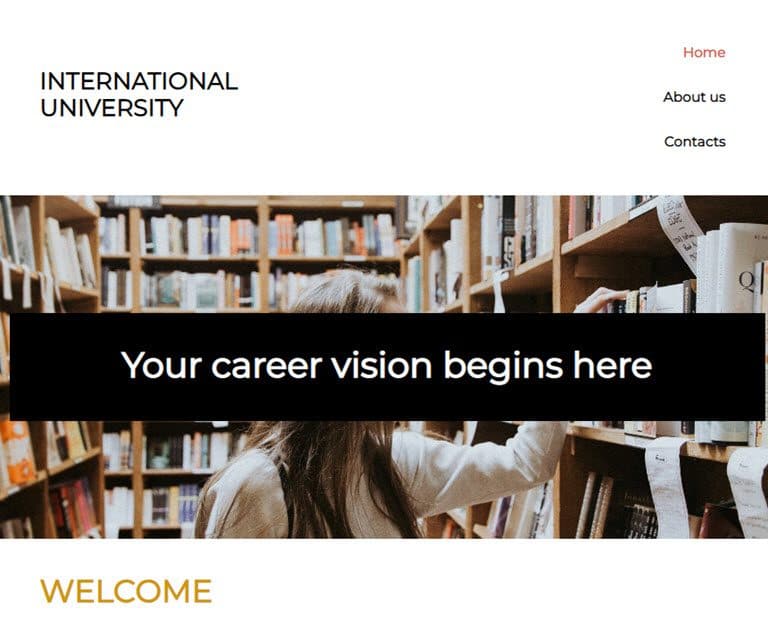 Another great design using a combination of extremely dark and light colors. The navigation bar is in a vertical position instead of the customary horizontal style. Additionally, the bar housing the navigation menu remains visible when scrolling. And as with 'Books' (sample website #2), internal links have been included, but in a sidebar format.
7. Music School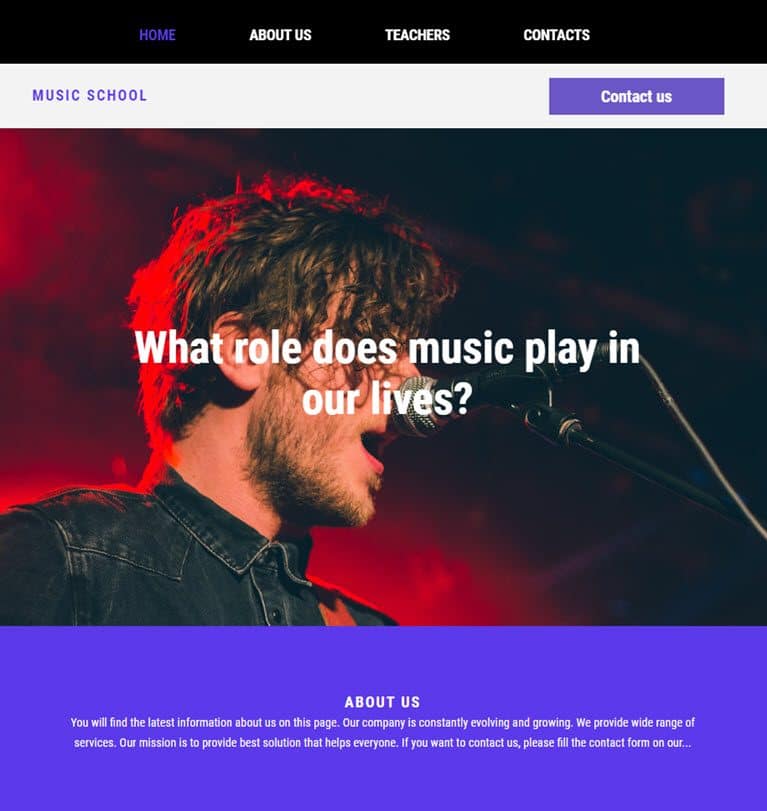 Maybe this will be the best option for your website if you operate a school that hosts regular or anticipated events, such as concerts, film festivals, or exhibitions. This template comes with countdown clock features ideal for the aforementioned events. Other unique features include a secondary navigation bar that houses a link each to the home page and contacts page.
8. Talents
The little ones have not been overlooked, as this template was designed with them in mind. The font for the navigation menu is intended to look like handwriting, and parallax scrolling has been included to keep them engaged as they browse.
9. Teddy's Garten
Even more kid-oriented than 'Talents' (sample website #8), this template is ideal if you are operating a school for young ones. It comes replete with a calendar of events, which can include school holidays and special events dates. Suggested tabs include an admission/registration option, a very appropriate inclusion as more and more people aim to complete most, if not all, of their businesses online.
10. Youth Center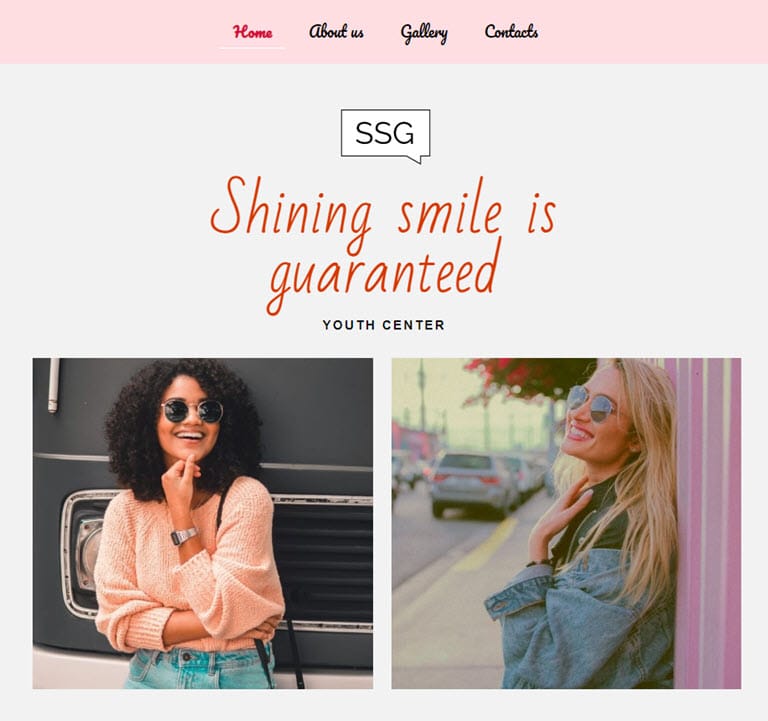 Youth center is a one-page website template. It has navigation options that smoothly jump you to the requisite section of the website.
Customize Your Website
These templates are easily tweaked to make them into unique representations of you and your business. You can adjust colors and fonts, add tabs and links, among many other customizable features. Additionally, you can always include add-ons, such as e-commerce, social media, and blog, to make your website even more in keeping with your vision, as well as to enhance customer experience.
4 Tips to Customizing Your Website
In addition to the basic elements of font, color and text sixes, there are other more important elements that require your attention.
Start by choosing a template closely suited to your needs, and that is of superior quality. A good place to start your search is our template library. In the 21st century, you need responsive templates, and allows for SEO optimization.
Use custom graphics and photos from your own gallery or photo library. High-quality stock footage can also be purchased, and used.
Include your company's logo and other personal information as much as possible. This may also include adding social media buttons.
Ensure you remove all generic information or words that were used as space savers. Replace them with your information.
Conclusion
As with every other aspect of your website, choosing a website template must boil down to your individual needs, and the customer experience. Do not rush to choose a template, and when you have, spend some time turning it into your own design.