SEPA transfers may have come up in passing, but what does it actually do? In essence, the SEPA transfers are a simple method for moving money inside 36 European Union (EU) countries. It is one of the quickest, least expensive, and safest ways to move money between eurozone countries. You can easily set up recurring payments to pay for web hosting and other services on MonsterHost using the widely used SEPA Direct Debit. Are you prepared to find out how to set up SEPA Transfer on MonsterHost? Let's start now.
What is a SEPA Transfer?
It is a global transfer carried out through the Single Euro Payments Area, a project of the European Union (EU) to synchronise payments throughout Europe. The objective is to make Euro cross-border money transfers simpler. As the banks that support the payments either have direct contacts with other banks or are part of a network of intermediate banks, which enables seamless transfers across international boundaries.
The European Payments Council (EPC) has developed numerous payment systems inside transfers to meet the various needs of users of the network. For SDD, here's what you should know:
SEPA Direct Debit (SDD)
It is a pull-based payment technique that enables a creditor or merchant to deduct funds from a debtor's or consumer's bank account as long as the latter has signed a legal mandate allowing the former to do so. SDD is only available in Euros, and in order to receive payment. Both one-time transactions and recurring payments can be made using SDD.
Rent, product subscription fees, insurance premiums, and other costs can be paid in this way.
Pros and cons
The ease and cost-effectiveness of these payments are their main advantages. It enables users to pay in euros everywhere in the permitted zone using a single payment account. As only European countries can make payments using the network, this is the one significant restriction. Here are a few of the advantages and disadvantages.
Pros
Within Europe, it enables simple cross-border bank transfers
Transactional speed
Euro cross-border direct debit between any two banks in the EU
No-hidden-cost charge structure
Enables access to a larger European market, which enhances the creation of greater business chances
Cons
Access is restricted, and only 36 European nations can use it.
Set up "SEPA Direct Debit" Automatic Payment
To learn more about SEPA transfer, you need to watch the video. It entails the following:
How set up a SEPA mandate
How to connect your bank
Pay your first invoice
Instructions to start "SEPA Direct Debit" Automatic Payment
You will need to set up a SEPA mandate to inform your bank that you want to authorize MonsterHost to make withdrawals for payment in euros (subject to advance notice).
Follow this guide to set up SEPA recurring payments on your MonsterHost account.
1. First, login to your hosting account.
2. Then go to "Billing" on the top navigation bar.


3. From this drop-down menu select "SEPA Direct Debit".
Here you will find a digital version of the SEPA mandate form.

4. Scroll to the option "Make first payment" which will withdraw € 0,01 (You also have the option to pay a current invoice).
5. Next, you'll see a list of payment options, among them, you can locate your bank.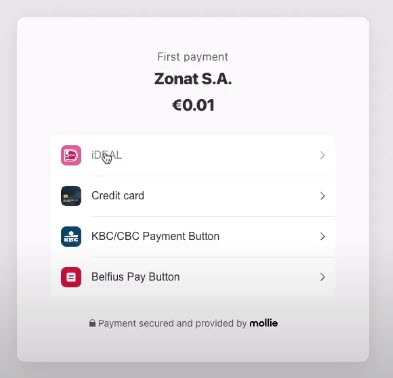 6. Choose your bank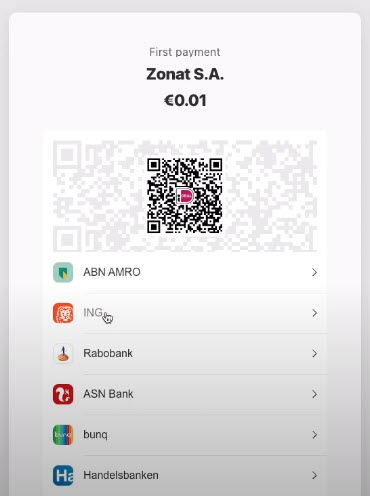 7. After you locate your preferred payment option, select "Pay invoice".
8. You will be rerouted to the client area with confirmation of setup as soon as you complete the payment. You'll see a message stating that "SEPA Direct Debit is enabled".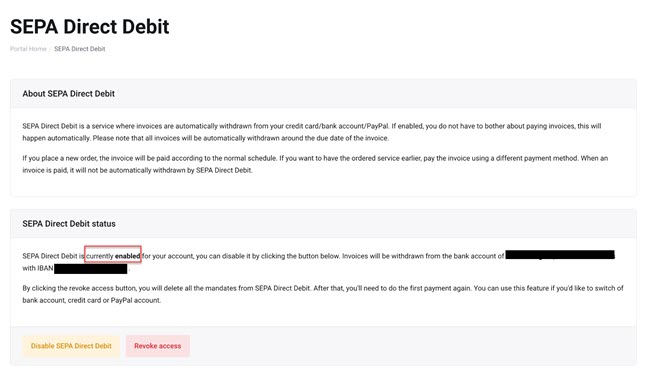 (Please note that you can also disable or revoke access on this page.)
9. That's it! You're all set. Now you'll never have to worry about missing an invoice.
*Please be aware that thanks to the SEPA Direct debit activation, each time our system issues an invoice, an automated payment withdrawal will be made from your account.
How SEPA works?
In essence, it functions exactly like a standard bank transfer, with the exception that all funds are transmitted outside and solely in euros. SDD, provides cross-border direct debit payments in Euros and typically takes up to 2 days to complete, a relatively quick transaction speeds.
Payments made via SEPA Direct Debit are made between banks. The SEPA Direct Debit program does not use any credit or debit cards. The banks always communicate directly with one another. This means you'll never have to worry about updating expired bank card.
Conclusion
Anyone who has a bank or other payment service provider in one of the 36 SEPA countries can now make SEPA payments in Euros on MonsterHost.
In essence, it was created to make domestic bank transfers as simple as possible for foreign transactions within Europe. The only fees you'll have to worry about are exchange rate margins for individuals attempting to send money in a currency other than Euros thanks to the network's ability to facilitate quick, inexpensive transactions throughout the continent. You'll always have seamless payments and uninterrupted service. Setup your SEPA Direct Debit payment in minutes on MonsterHost today!