You don't have to be afraid of the prospect of creating a website on your own. Simply because it's a straightforward procedure with easy-to-use website templates at your disposal.
Know where you can get some stunning and efficient website templates? Thought you'd never ask. MonsterHost is the answer. It's one of the best website builders around and allows you the ease of access to create fully optimized websites.
So, let's take a detailed walk-through on how to create your very own website from a template using MonsterHost. If you are a newbie, you've just a struck website template gold mine.
Let's get right to it.
What is a website template?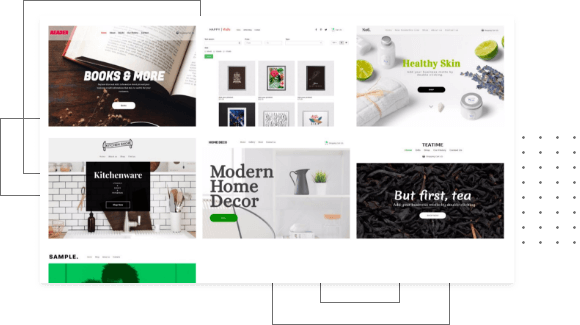 Remember when only people with technical expertise could design and maintain a live professional website with gorgeous and engaging pages. Not to mention the exorbitant cost. Thankfully, those days are gone and you no longer need coding skills to be able to build a website from scratch.
This is possible by using a website template. That said, a website template is a pre-built website that's usually affordable and easily customizable. You can use the template's drag-and-drop features to build your own website, adding logos, images, videos, colours and other features.
Templates are available on countless platforms online allowing novices and professionals alike to create a professional website.
A website template is simply the design and layout of a platform such as MonsterHost. Your template affects elements of your website such as:
Fonts
Colors
Backgrounds
Sidebar placements
Social media elements
The layout of navigation elements
The integration of account links
Information that is dependent on a responsive design
Once you sign up with a platform that provides drag-and-drop website templates, there is usually a wide variety to choose from. Select the one that best suits your needs to get started. Of course, some platforms allow you to change your template should you change your mind on the original design you choose.
Choose the best website builder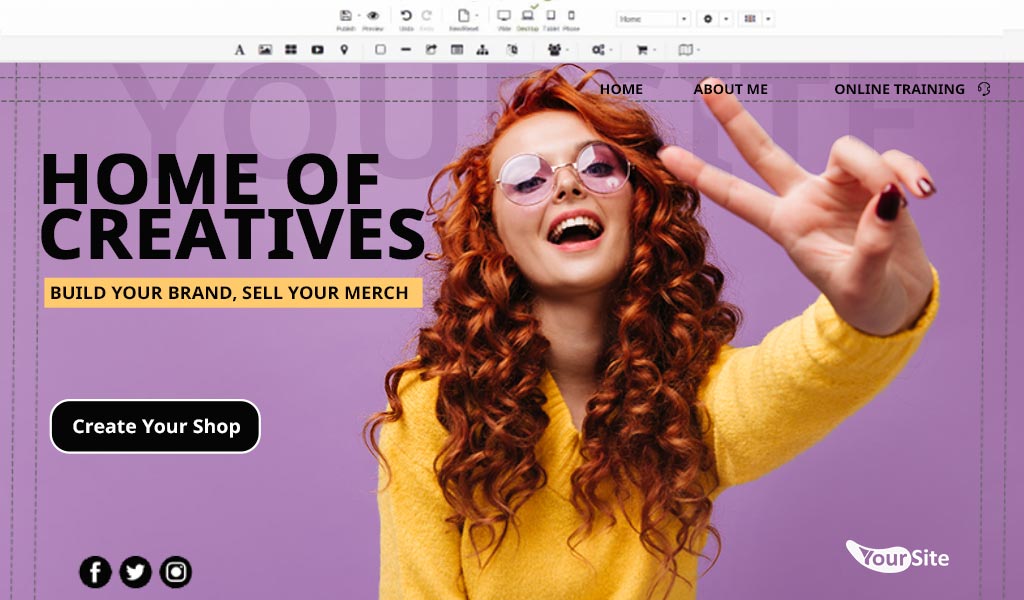 As a beginner, choosing the best website builder may seem like a daunting task. That's where we come in. We know there are quite a few factors you'll need to consider while choosing the best website builder and we're here to help. Here are a few things you must pay attention to:
1. What's the goal of your website?
What will you use your website to do? Are you a blogger or a service or product provider? Are you just making a simple portfolio to showcase your work? Your website will require unique features depending on the answer to those questions.
2. Template Price-tag
How much does it cost to build a website using a template? –You'll need to make a budget that will facilitate your needs. Of course, if you're in doubt you can start with a free or cheaper plan and upgrade at a later date. These plans are available so that you aren't paying for things you don't need. What's guaranteed is that there is a plan out there for everyone to benefit from.
3. Ease of Use
How easy or difficult are these templates to maneuver? – The level of complexity will vary depending on the platform you choose. Regardless, the goal of website templates is to enable anyone, regardless of ability level, to design their own website with little to no help. Therefore, in general, most website templates are user-friendly and simple to use like ours at MonsterHost.
4. Check customer reviews
What are other users saying about their platform experiences? – Getting input from customers is usually beneficial. You should think of them as genuine reviews that will either persuade or dissuade you from using a particular platform.
The best website builder for small businesses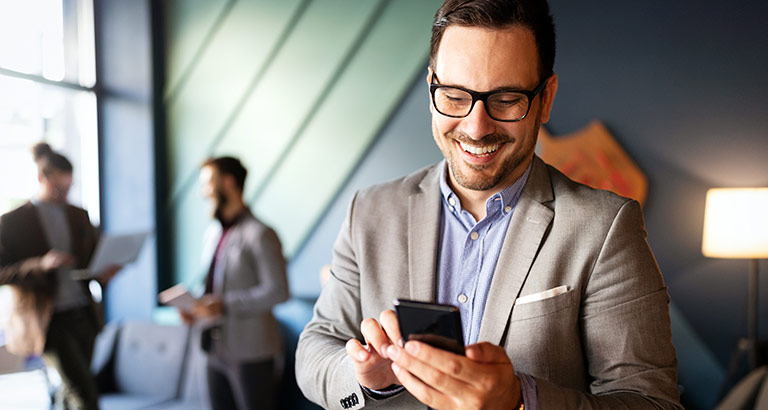 MonsterHost is the best website builder for small businesses. All website template plans come with web hosting, unlimited pages and traffic, over 200 free templates, a free domain and free email accounts. The features you receive are scalable depending on the plan you choose.
If you already have a website and want to upgrade to the finest website builder for small businesses, MonsterHost is the way to go. You'll have no trouble importing your existing website because it only takes a few minutes. You can also employ on-demand features like free stock pictures, mobile-friendly themes, and more with the import tool. Of course, you'll be able to customize your template to fit your needs.
How to build a website from scratch – step by step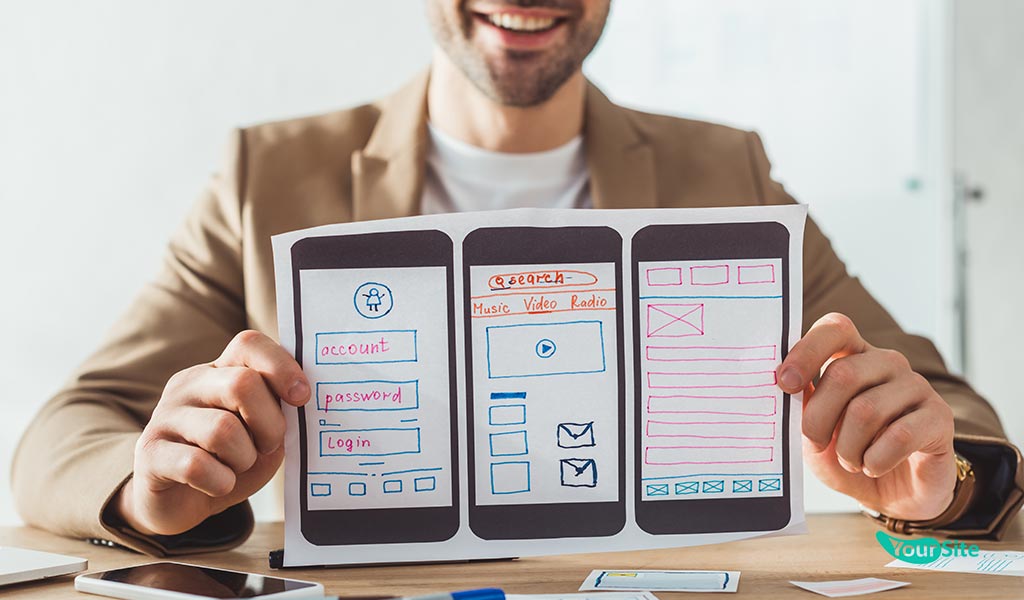 And now, for the part you've been waiting on, how to build a website from scratch! When you choose MonsterHost as your website builder, the steps are easy to follow and you'll have a website of your very own up and running in no time.
Step 1: Login and choose template
To begin, if you don't already have a login, you'll need to sign-up for an account. From there, it's a breeze. It's simple to login to the best website builder where you'll also access your web hosting account. Once login is complete through your web hosting account, you'll be taken directly to our site builder software through the product's dashboard.
Always choose the template that's right for you!
If we're being honest, this is probably one of the more fun parts of building your own website. When you get to this stage of the process, you should have an idea of how you want your website to look. You would have thought of a color scheme, have an idea of some of the images you want to be displayed and of course at least what you want to say on your landing page. After all, that's from step one mentioned above- deciding on the purpose of your website before getting to this stage of the process.
Side note: You might want to have a peek at your competitors' or colleagues' websites to see how they designed and structured theirs. This will provide you with some inspiration and suggestions for how to design your own website.
So next on the agenda is choosing your website template. With over 200 responsive website templates to choose from, MonsterHost organizes them into categories so that navigation is easy for you, making it possible to find the best website template for you.
Step 2: Customize your website
Up next, it's time to use our drop and drag builder. Our site templates can be customized using the drag and drop builder, or you can construct your website from scratch and skip the templates entirely.
Even better, you can change out the stock photos on the template and replace them with your product photos or other stock photos that suit your desired style better. We should also point out that our site templates come embedded with adaptive design. This simply means that your website template will adapt to the screen orientation of any device your website is viewed on.
Step 3: Content & Layout
After you've finished customizing your layout with your preferred color scheme and photographs, it's time to concentrate on the textual content for your website. For each web page on your site, you'll need to add the following:
Header – A website header is found at the top of each web page. The header usually includes the main tools you'll need to navigate from one page to the next. Some elements that can be found in the header is the search bar, contact information, blog tab and links to other pages on your website.
Additionally, if you have a logo, you can display it in the header. This logo can be used uniquely way as a home button that carries users back to your website's homepage.
Body – With each page of your website, the body will change. This element of your website takes up most of the space because it displays the majority of the content the user needs to navigate the website.
The body of your website may include blogs, images for your photo gallery, product or service information and the list goes on.
Footer – As implied by the name, the website footer runs across the bottom of your website. Though it may seem like the footer isn't important, it is. It contains information like copyright notices, contact information, links to social media and other important information.
Your website template will allow you to edit and customize everything available within these basic elements. Choosing the right website template will make your product or service stand out. It will also allow you to optimize your site user's experience and help position you as a legitimate expert in your subject.
Get more content layout tips here.
Step 4: Publish your website and go live!
Finally, after following this road-map, it's now time to go live with your website with just a single click.
Reviewing how to create a website from a template
Lest you forget, here's a quick review of the steps you should take to create your website from a template of your choice:
Choose the best website builder and sign up –MonsterHost website builder includes hosting, a free domain and awesome mobile friendly templates.
Choose a plan that meets your demands and fits your budget.
Do some research on your competitors or colleagues' websites for
Inspiration and guidance. Not only can you get ideas to help develop your vision of how you want your website to look and feel, but you also gain insight into what your potential customers will respond to.
Decide on the color scheme and photos to be used
Pick the template that resonates with you to begin adding your custom touches
Populate the Header, Body and Footer for your website
Finally, go live with your website with just a single click!
How much does it cost to build a website?
There are many platforms online allowing you to create a website from a template for free. But of course, there's a catch.
Here's the deal. When you create a website for free from a template, usually you don't get the opportunity to have a customized domain. Instead, a part of your domain will have that website's name incorporated into it. In addition to that, there may be restrictions on the choice of templates and other features may be restricted unless you sign up for a subscription.
With MonsterHost, on the other hand, you can choose from any of our plans, which range from $3.00 for the first month and $5.00 for each subsequent month to $15.00 for the first month and $19.00 for each subsequent month.
These plans include the following features that are fully unlocked and ready for you to get going with creating your own website with no restrictions. These include:
Free web hosting.
Unlimited pages and traffic.
Over 200 website layout templates to pick from.
A free custom domain with your choice of .com, .net, .org, .biz or .info – for 1 year when you sign up for the annual plan.
And depending on the plan you choose you can create between 1 and 10 custom email accounts to operate from.
An added benefit is online payment options like CB and PayPal are available with our e-commerce plans.
To top this all off is the fact that our website builder accommodates the use of plugins and widgets to help you customize your website even further.
Remember, you can also import a website that already exists using the MonsterHost website builder and still customize it to your liking using our drag and drop feature or choosing from our free templates.
To summarize
How much does it cost to build a website using a template? A reasonable price that will not break your budget. And now that you are geared with the easy steps you can take to build a website from scratch by using the best website builder around- go forth and create the website of your dreams!
MonsterHost is the best website builder for small businesses. It saves you time and money while helping you to create a stunning, optimized and high-performing professional website. Get started with MonsterHost easy sitebuilder templates today.