Last updated: Jan, 2023
Most companies manage organizational and personal client information online every day. With the exponential rate at which data volume is growing, so does the increases in accidental leakage of sensitive information. As a result, the need for data loss prevention is even more overwhelmingly relevant with each passing year.
Data breaches can damage a business in a number of ways including loss of company records and sensitive customer information. These have the potential to result in bad company reputation, customers losing trust and even collapse of your business entirely. Having the best quality web hosting that offers reliable and efficient backup tools is the right start in data loss prevention.
In 2023 we'll see the beginning of a new decade with great possibilities coupled with several potential online security issues. So how do you master data protection? If you are worried, don't be. Monsterhost has your back. We've put together seven data loss prevention tips, to help you keep your data secure for 2023.
What is Data Prevention Loss, DPL?
DLP software works by detecting and monitoring potential data breaches, preventing them through monitoring, detecting and blocking sensitive data while in use, in motion, and at rest on your mobile phones, tablets, laptops or desktops.
How Does Reliable Hosting Help with Data Protection?
Using a quality web hosting provider that is compliant with General Data Protection Regulation (GDPR). It should also be secured with SSL certificates and offer the same to you as a customer. This will help to protect your company and customers' sensitive information.
At Monsterhost, we are compliant with GDPR. We also offer reliable hosting packages including shared plans, VPS and Dedicated Server Hosting.
Why Do You Need A Data Prevention Loss strategy?
Regardless of the size or industry, every organization needs to have a data loss prevention (DLP) strategy. This is to safeguard a company's data and prevent it from being improperly accessed or deleted.
Without and effective DPL you can easily lose private data, clients and it can even cost you your business.
As it relates to data loss statistics, IBM's "Cost of Data Breach" study predicts that average cost of data breach for 2023 for a large organization will cost almost US$4 million. While smaller companies are estimated to lose over US$2 million.
Therefore, create a strategy that focuses on the protection of valuable, sensitive or regulated data, which includes financial data, medical records, and intellectual property.
Monsterhost Data Loss Prevention Solutions
You can find several data loss prevention solutions on the market. These software solutions adapt to the diverse needs of companies. Some of the main types of data loss prevention solutions include:
Network-based data loss prevention — these solutions focus on protecting your data by monitoring network traffic. They also examine social media interactions, email traffic, and SSL traffic for possible violations as it relates to information disclosure policies.
Storage-based data loss prevention — the purpose of these tools is to protect the data stored within a data center. They identify the specific location of confidential information while determining the security of the storage.
End-point based data loss prevention — these solutions work by monitoring endpoints such as tablets, laptops and personal computers for all actions that transfer data. You can also configure your endpoint-monitoring tool to block specific activities.
Data Loss Protection Best Practices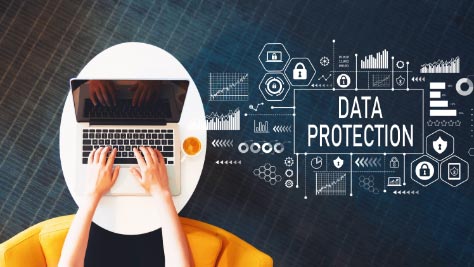 Every organization first has to identify the main risks they face and from there, prioritize the elements they can control. Data loss statistics show that human error and insider threats are responsible for a number of data breaches. As a result, here are some best practices to prevent this from happening.
Employee Security training—it's in an organization's best interest to train its employees on data storage and sharing best practices. This will help in preventing accidental leaks and data loss incidents.
Measure your risks — assess data for critical assets and then find the best way to protect them. Companies should develop a clear strategy based on the type of risk its data is exposed to. There is no one-size-fits-all data loss prevention solution.
Monitor guidelines — each country has different regulations concerning the monitoring of employees' activities. As such, companies should ensure that they limit data exposure while protecting their employees' rights and information.
Automate whenever possible — use Security solutions to automate functions such as real-time alerts, access control and identifying risky employees. By combining endpoint data loss protection with tools that use behavior analysis can help companies to detect insider threats early.
Follow a top-down security policy — usually, data breaches start with compromising the credentials of privileged users. Top-down security policies help to prevent insider threats at every employee level.
7 Monsterhost Data Loss Prevention Tips for 2023
As mentioned above, monitoring software comes with built-in automation that can greatly assist companies in controlling access to the data. Here are some other tips that will assist you in preventing data loss.
1. Invest In Data Loss Prevention Software
As mentioned above, DLP software will help you to detect and prevents potential leaks by protecting sensitive data that you enter, use or store.
2. Use Email Encryption
With email encryption, only the intended recipient can access messages. You can also opt to automate your encryption. With this, a gateway appliance will automatically encrypt and decrypt messages that you send through your company email.
3. Implement a Two-Factor Authentication
You and your employees should create strong passwords. Additionally, these passwords should have a second authentication factor to it. It can be a pin number, unique image, or biometric component (fingerprint, voice recognition). This is to ensure that only authorized users have access to sensitive information.
4. Secure Physical Devices
If your employees use their personal devices to access company data, you should put security procedures in place to safely facilitate this. Companies should also know how many devices and the types being used to access sensitive information. This way safety measures can be put in place.
5. Constant Reviews of IT Infrastructure
It's important that you do periodic reviews of your IT infrastructure as technology changes all the time. With new capabilities becoming available, you need to have the necessary new security measures in place to keep data safe. Additionally, new clients, company growth, and other changes will require upgrading your IT procedures and technology.
6. Update Your Cybersecurity Policy
Ensure the policy defines clear steps needed for the storage and disposal of sensitive information including in its physical forms.
7. Clean Outdated Devices
Whenever you upgrade your computer system or purchase new mobile devices, ensure that the old ones are all wiped clean before disposal.
Conclusion
If you pay little to no attention to Data Loss protection strategies, it can cost you your customers, reputation and even your business. Data loss prevention isn't a single step, it's an ongoing process. Focus your effort on securing your most critical data, then access, monitor and implement the best data prevention loss software and strategies.
Constantly check data loss statistics so that you can always be on the offensive in protecting your information.
Also, remember that having a reliable hosting plan is a great way to improve data security. A high-quality web hosting solution will also offer you efficient cloud backup tools, should you still experience data loss.