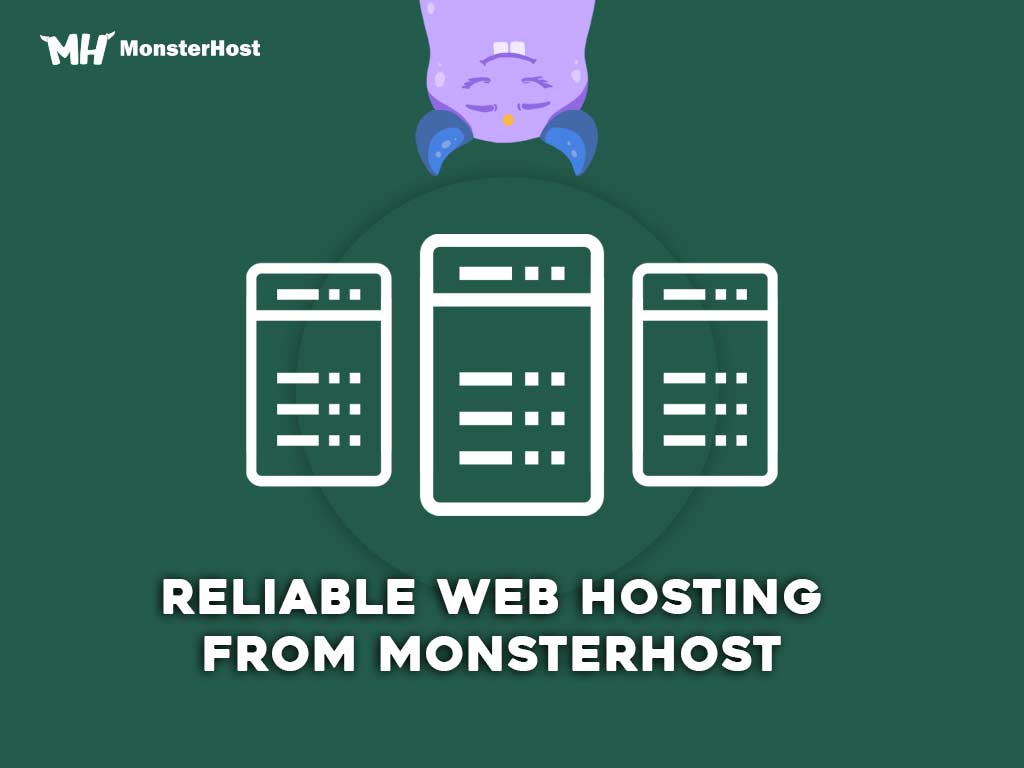 Powerful hosting is the best decision you could ever make for your website. It's even more important than making sure your website's colors are aligned with your brand and that your brand voice will attract your ideal customer. If your website takes too long to load, or if it develops a reputation of being down more often than it's working, you'll lose visitors. Nobody's going to stick around waiting for your brand-aligned website to load, and your ideal customer will be so irritated at your website's unreliability that she'll just click out of your website and open your competitor's. So, if you want a successful website, you need to start with powerful hosting.
Why we're a web hosting monster
There are lots of reasons our customers think we're a web hosting monster, but the most important reason is this: We take your website seriously! We don't think it matters whether you want a website to attract more customers to your small, family-owned business, expand your already massive business, or even entertain the world with pictures of your cat.
Your website matters to you, and that's all we need to know. We think every website deserves monster hosting, and we work hard to make sure that that's what you get.
Here's what monster hosting means to us: Monster hosting means that your website loads quickly; that downtime is rare; that if something ever does go wrong, you have support, no matter what time it is or what day it is; that you have lots of packages to choose from, so scaling your website is a breeze and that you get extra features that keep your website running smoothly.
Web hosting monster: We deliver!
1. Customer support
The secret to a high-performing website is great customer support. If something goes wrong, you'll need to be able to talk to someone who can help you fix it.
So, we offer support 24/7. If anything goes wrong with your website – day or night – you can contact us, and we'll help you.
2. Variety of hosting packages
You need a variety of hosting packages if you want to be able to scale your business. (Also, who doesn't like variety?)
Are you the type who'd prefer to have your website be the only website on its server, even if it means having to pay a little extra? Then you'll love our dedicated hosting package!
Do you want the privacy of a dedicated server but pale at the idea of spending one bit more than you'll absolutely have to? Go ahead, try our Virtual Private Server package.
We know you like having options, and we like giving them to you.
And no matter which package you choose, we offer enough storage, bandwidth and emails for your website to run like a dream.
3. Emails
Our emails are different.
If you've never had email from a web hosting company, you're probably wondering why anyone would spend money on an email package when they can have email for free.
But if you ever want to start any kind of email marketing campaign, you'll need our emails.
Because our emails are customisable and can be made to match your domain name, which keeps your brand cohesive and, statistically, means your email is more likely to be opened and less likely to be destined for the dreaded Delete pile.
Also, our emails can send bigger files, so you won't have to spend ages figuring out how to shrink your gigantic PDF document, so you can send it to your very important (and very impatient) top client.
4. cPanel hosting
cPanel is a user-friendly website management system that makes it easy to run your website even if you have no technical expertise – even if it's your very first time having your own website.
cPanel hosting is essential to any website owner, but it's invaluable if you're just starting out. It lets you publish your website, manage your domains, organized your files, and do everything you need to do to keep your website up and running. And the best part is that our cPanel comes with emails!
Read more about the benefits of cPanel hosting here.
5. Reliable high-performance servers
At Monsterhost, you'll get servers you can rely on. We have Tier IV servers, which are the fastest, most powerful servers in the world, and that's not all:
We also maintain our servers 24/7, making sure they're in tiptop working condition and replacing hardware before it malfunctions. So, when you host with us, you can be sure that your website will live on the best servers money can buy.
6. High uptime
We offer 99.9% uptime, which is the highest uptime that can possibly be guaranteed. So, when you host with us, your website won't be plagued with constant downtime and error messages.
7. Cloud-based backup
In the unlikely event that anything does go wrong with your website, whether that's because you accidentally deleted something or a resilient virus managed to get through our fortress-like defenses, we've got you covered. Because we offer the most secure kind of data backup in the web hosting industry: We offer cloud-based backup.
This means that if your website is somehow compromised, we have a copy of your website, ready to take its place. So, you won't have the kinds of worries faced by website owners with inferior web hosts. You can rest easy, knowing we're protecting you. Learn more here.
8. Extra features
When you trust us with your website, we take our responsibilities seriously. That's why, in addition to all our other features that are essential to the functioning of your website, we also offer extras that make your life easier. For instance:
SSL certificates: These let your visitors know that your website is safe, so they feel comfortable visiting your website. (They're also mandatory, if you have an eCommerce website that will collect credit card information.)
SEO tool: Attracting web traffic is equal parts luck and skill, and it can be hard to figure out, especially in the beginning. That's why we offer an SEO tool that analyses your website to see how you can attract more visitors.
Email marketing tool: Our email marketing tool takes the guesswork out of running a successful email marketing campaign. Our tool lets you add Call To Action buttons, quickly create forms, and do absolutely everything you need to do to increase your visitor base through email marketing.
9. Website migration
If you already have a hosting company, but you're unhappy with the service you're getting, we make it easy to move your website to our platform without having to create your content all over again. And the best part is that it's quick (You'll never have to wait more than a day) and it's FREE!
Let's wrap up!
Your website is an investment. Don't undermine your own hard work by choosing the wrong hosting company. Choose a web hosting monster that offers powerful hosting with great customer support and world-class servers. Choose monster hosting.